We've recently explored Largest Ships in the World 2021 as well as World's Top 10 Largest Cruise Liners, so now it's time to have a look at the companies that own these giants. Maritime experts resort to several methods in ship owners ranking from TEU capacity to profit evaluation, but as our readers are primarily interested at jobs at sea, so we'll focus on the fleet size of our contenders.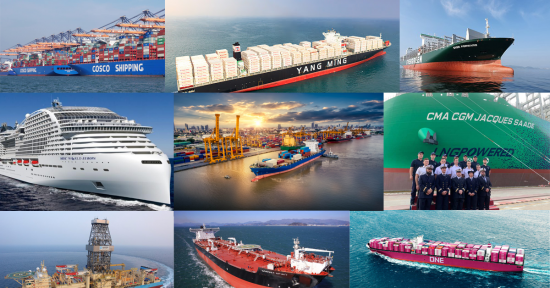 3. Mediterranean Shipping Company (MSC)
7. Ocean Network Express (ONE)
9. Pacific International Line (PIL)
10. Yang Ming Marine Transport Corporation
The year 2020 has changed the habitual layout in the top 10 shipping companies; some companies had to sell their vessels in order to stay in black; some postponed deliveries, so the fleet size and capacity are rather volatile for all players. 
At present the world ecomony strives to climb from the Covid-19 abyss, so we'll consider how the major companies made it through the 2020 crisis as today it becomes both a matter of curiosity and prudence. Spoiler: financial results are astonishing. 

1. AP Moller – Maersk 

Maersk have preserved its title of the largest shipowner in the world owning or operating 1 388 vessels. The bulk of the fleet consists of container ships (713 vessels); there are also product tankers, 430 tugs (Svitzer group). In addition, Maersk is one of the oil and gas giants with 43 offshore vessels (mainly AHTS and Supply vessels). The company also owns 14 jack ups, 4 semi-submersibles and 4 drill-ships.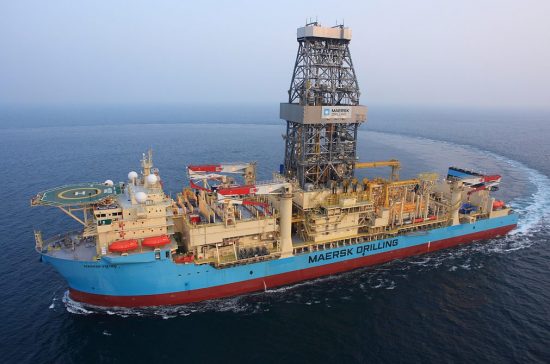 Interesting Facts about Maersk: 
Maersk accounts for 17% of the world's container ship fleet.

Despite the global recession and 16% decline in cargo volume during 2020, Maersk has managed to produce a profitable year. Their profit has reached $2.9bn which seemed highly unlikely at the beginning of the quarantine year.  Søren Skou, CEO for A.P. Moller – Maersk, explains that the company managed to stay in black thanks to flexible capacity deployment, reducing costs and by adoption to customers' needs. The company expects Q1 results to be even better. "We are full", said Skou.

Maersk has 19+ million containers of different sizes and kinds. If you put them in a row, there'll be a chain approx. 4,500 km long. This is a distance between London (UK) and Tehran (Iran).

Maersk ships berth every 13 minutes.

Maersk have placed orders for new

M-class Anchor Handling Tug Supply Vessels

and I-class Subsea Support Vessels.
2. COSCO Shipping Lines 

Incredibly, but the second largest shipping company in the world is just 5 years old. It was established in January 2016 by merger of COSCO (abbreviation for China Ocean Shipping (Group) Company) and state-owned China Shipping in their attempt to battle a downturn in the world's maritime industry.
Today the company owns and operates a fleet of container ships and bulk carriers and is headquartered in Beijing.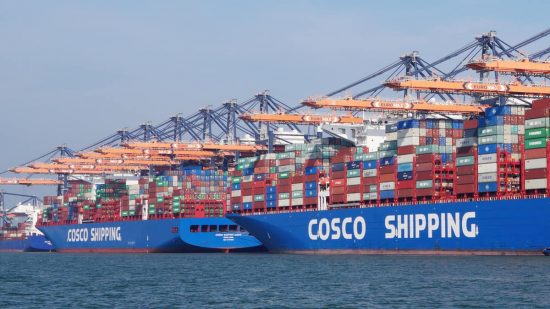 Interesting Facts about COSCO:
COSCO is one more company that has demonstrated a strong operational performance during the COVID-19 pandemic. COSCO states a 8.18% profit growth in their 2020 results report.

The spectacular result was achieved despite volumes falling 6.2% on international routes and more than 16% drop in domestic Chinese trade. Experts point that the survival receipt was similar for all such companies:




– blanking sails (there have been more than 400 blank sailing during spring lockdown while even today COSCO continues to post a timetable of blank sailing voyages on the website);




– maintaining freight rates;




– taking advantage of low oil prices.

COSCO Shipping has recently entered into agreement with Chinese e-commerce giant Alibaba and its affiliate Ant Group to promote blockchain technology in shipping. Ant Group will develop smart solutions for COSCO vessels, ports and supply chain finance.
3.  Mediterranean Shipping Company (MSC) 
MSC is an Italian shipping company headquartered in Geneva. It was founded in 1970 and has grown from a single vessel (M/V Patricia) to a multinational corporation with 587 ships moving 21 million TEU (twenty-foot equivalent units) via 200 routes annually, therefore holding 16% market share (on Sept. the 3rd 2020 according to Statista.com). 
The core of the company's fleet are container ships and cruise liners (MSC Cruises).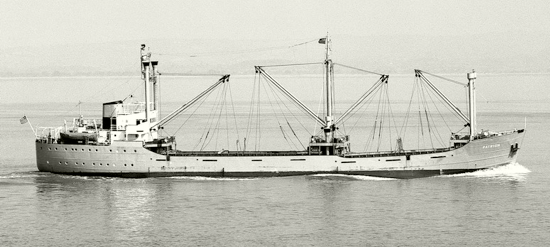 Interesting Facts about MSC:
MSC Cruises was founded in 1990 and has expanded more than 800 times since that time.

The Company has its own private island Ocean Cay near Bimini, Bahamas and uses it as a secret paradise destination.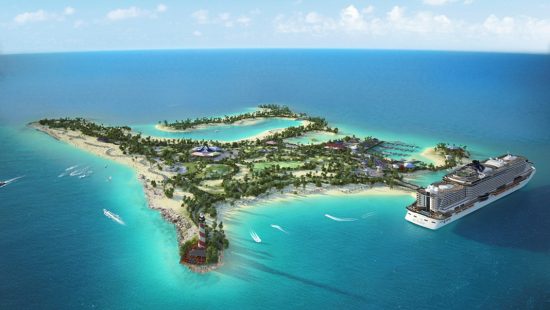 MSC Grandiosa has become the first big cruise ship liner to set sail amid Covid-19 pandemic. On August the 17th 2020 she left for the cruise around Western Mediterrania after Covid -19 testing of all 2500 passengers and 2 weeks quarantine for the crew.

MSC took delivery of 6 largest container ships in the world during the year 2019  each vessel carrying 23 786 TEU. Their record has already been beaten by HMM vessels, but 

MSC Gülsün

and her 5 sister ships remain among the biggest vessels in the world.
MSC builds the ultimate cruise liner. The gross tonnage of MSC Europe will surpass 200,000 t providing spacious accommodation for her 5 400 passengers. MSC Europe is due to arrive in 2022 bringing about competition for the name of the largest cruise ship in the world with Royal Caribbean's

Wonder of the Seas

.  
4. CMA CGM Group

Another successful merger in our list is a French company CMA CGM Group. It was established in 1996 through the incorporation of Compagnie Maritime d'Affrètement (CMA) and Compagnie Générale Maritime (CGM). The association of two maritime companies which dates back to the 19th century was conducted by President Jacques Chirac and Prime Minister Alain Juppé. 
The company has developed significantly for the past 24 years to become the world's fourth shipping company. 
Interesting Facts about CMA CGM Group:
The company has become the first shipowner that dared to switch to LNG propulsion for their mega container ships (LNG generates up to 25% less CO2, 99% less sulphur, 99% less fine particles and 85% less NO2.) They took delivery of the world's largest LNG-powered vessel, 23 000 TEU container ship CMA CGM Jacques Saade on the 22nd of September 2020.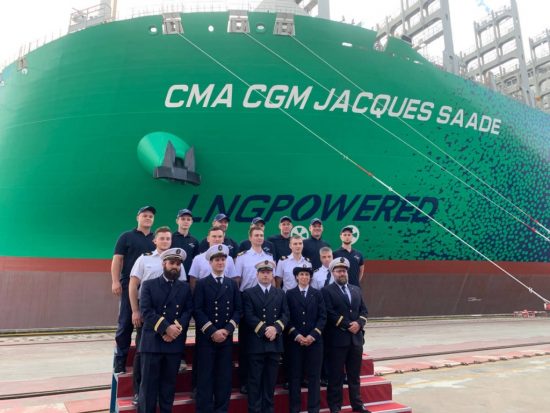 In spite of an apparent respectability, the company have been involved (but later officially victimized ) in a row of illegal arm-shipping incidents:
The first case occurred when two containers filled with "gun sights, tracks and other spare parts for T-54 and T-55 tanks as well as other war material valued at an estimated $750,000″ were seized by South African authorities in November 2009. The invoice stated that containers travelling from North Korea to the Republic of Congo contained spare parts for bulldozers.
A year later, a shipment of 107 mm artillery rockets (Katyushas), explosives and rifle ammunition was interjected in Lagos, Nigeria. 13 containers with arms were loaded on board of CMA CGM Everest in the Iranian port of Bandar Abbas and were labeled as "glass wool and pallets of stone". The Gaza Strip is believed to be the possible final destination for that shipment.
Perhaps smugglers choose CMA CGM company, because they have the most convenient containers. The company offers more than 20 different types to accomodate any cargo.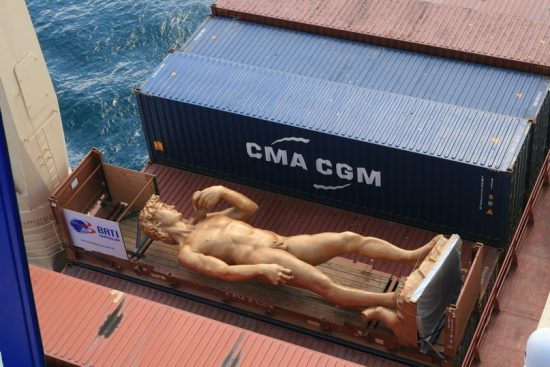 Meanwhile, a standard 20' container can carry 11 000 iPads, meaning that you can pack all 360,000,000 ever sold tablets on the one CMA CGM mega-container ship .
5. Evergreen Line 

Taiwan headquartered company which began its operations on the 1st of September 1968 with the single vessel called Central Trust. However, Evergreen soon developed from a humble cargo shipping company into the leader of the Far East – the US East Coast Line.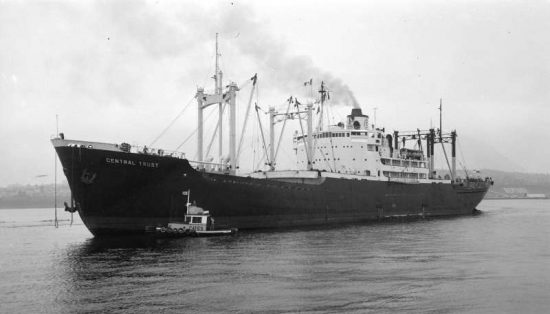 The present Evergreen Line consists of the four companies merged in 2007: Evergreen Marine Corp. (Taiwan) Ltd., Italia Marittima S.p.A., Evergreen Marine (UK) Ltd  and Evergreen Marine (Hong Kong) Ltd making Evergreen Line one of the top shipping companies in the world.
Interesting Facts about Evergreen Line:
The company has had an especially profitable year. H2 2020 has brought a profit of 3.8 Taiwan's billions of dollars (131 million U.S. dollars) compared a net loss of -447.5 million Taiwan dollars  registered during April-June 2019. 

Lloyd's Register (LR) has awarded Evergreen Line with Digital Safe Security certification for their 12,000 TEU ultra large container ship

Ever Forward

. She was delivered by Samsung Heavy Industries (SHI) on 28 September 2020 and has a new digital ship system installed.

SVESSEL

solution allows instant access to all operating data through the cloud, so the crew and onshore personnel can make more informed decisions about vessel control.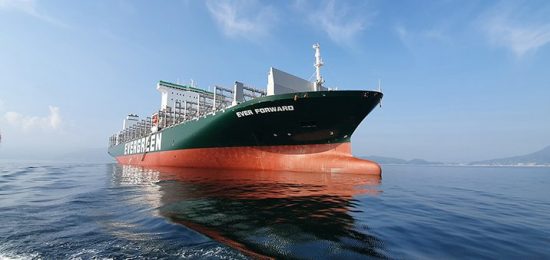 Evergreen Line has become well-known all over the world due to the MV Ever Given incident.  This 400m – long container ship has been blocking the Suez Canal for a week during March 2021.
6. Hapag-Lloyd

German company Hapag-Lloyd emerged in 1970 through the association of two maritime companies Hamburg-American Line (HAPAG) and North German Lloyd. The history of both dates back to the 19th century. The company has gone through a series of ownership transfers and alliances since then, but remains the 6th shipping line in the world.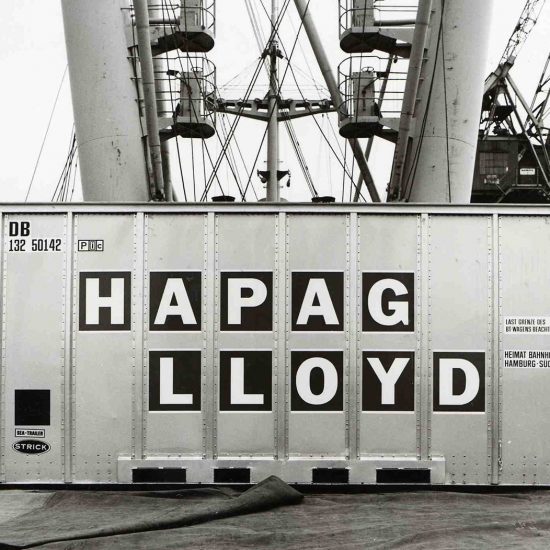 Interesting Facts about Hapag-Lloyd:
Similar to its competitors the company proved resistant against Covid-19 triggered recession. Earnings before interest, taxes,  depreciation and amortisation (EBITDA) increased to more than USD 3 billion (approximately EUR 2.7 billion). 

Hapag-Lloyd have endured many crises for their long history. For instance, its integral part North German Lloyd (NGL) had lost the bulk of its fleet twice. The company was involved in Transatlantic passenger-cargo transportation, and had their vessels in the USA when World Wars broke out. Both times the fleet and the New Jersey base were confiscated as reparation costs and NGL had to start over.

Cooperation between 2 companies started much earlier than the 1970s merger. Hapag's talented director Albert Ballin initiated Conference of North European Lines in 1872 to prevent rates' battle and to encourage resources pooling in mailing contracts and cruise shipping operations (both companies were their time leaders providing best liners and itineraries).

In December 2020 the Company has ordered five 23,500 TEU-plus LNG-powered vessels from Daewoo Shipbuilding & Marine Engineering in South Korea and is going to spend about USD 1 bn for their construction. Mega container ships will be employed on Hapag-Lloyd's Europe–Far East routes as part of THE Alliance, as was pointed in the Carrier's statement.
7. Ocean Network Express (ONE)

ONE is a joint venture between container divisions of three great Japanese shipping companies: Nippon Yusen Kaisha (NYK), Mitsui O.S.K. Lines (MOL) and K Line. It was established in 2016 in an effort to strengthen positions in the Asian market. Nowadays, ONE is the seventh in the line of biggest ship owners in the world and the leader in the Asian reefer container market.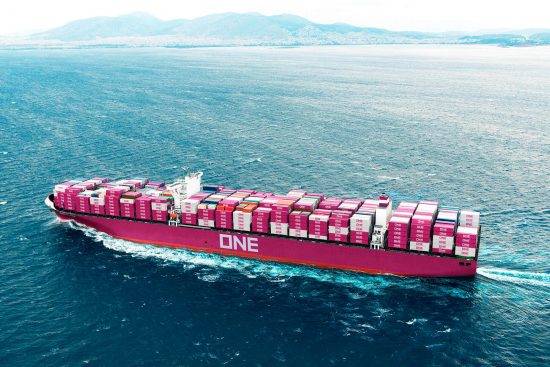 Interesting Facts about Ocean Network Express:
The corporate magenta color is called to remind of sakura blossoms which is a prominent symbol of Japan. ONE has presented its new corporate style in 2018; and now paints all its vessels and containers in bright magenta (reverse colors for reefer containers).
The ONE has delivered the best results for the Q3 since the merge of the 3 companies. The profit significantly increased to USD 944 Million (compared to the same period last year (+USD 939Million) thanks to the fast recovery in cargo demand and increases in the short-term freight market.
8. Teekay Corporation

Teekay Corporation will steal a show from container ship owners for a bit. Teekay is the top tanker ship owner in the world with above 140 vessels in their fleet. The company was started by Danish emigrant with a couple of decrepit oil tankers in 1973, but expanded immensely in the 80s trading in the dangerous Persian Gulf waters during the Iran – Iraq war. 
Today the company operates not only oil tankers, but LPG/LNG carriers and has ventured into oil and gas production and offshore industry.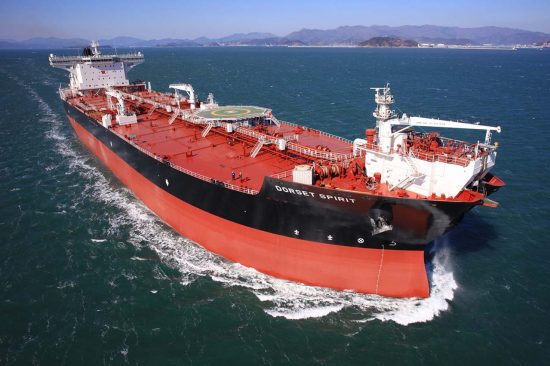 Interesting Facts about Teekay Corporation:
Teekey's  CEO, Kevin Mackay, commented on 2020 financial results: "We reported consolidated adjusted net income of $83 million, or $0.82 per share, compared to the prior year's adjusted net loss of $19 million, or $0.19 per share, and we increased our total adjusted EBITDA to $1.1 billion, up nearly 15 percent over the prior year".

Company's name is the abbreviation of the founder's first and second names: Torben Karlshoej.

Teekay Petrojarl is the largest FPSO operator in the North Sea today. It operates 5 FPSOs and 1 storage tanker; their total daily production reaches 339,000 barrels; while storage capacity is 1 million barrels (160,000 m

3

) of crude oil.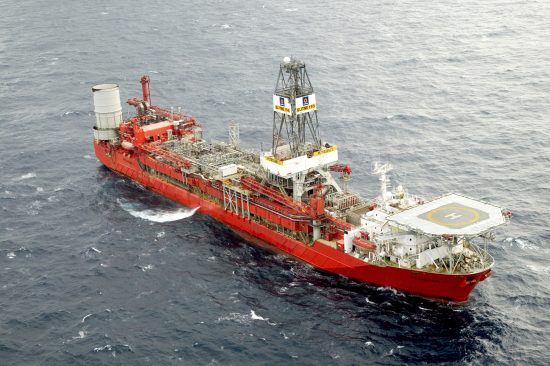 9. Pacific International Line (PIL)

Pacific International Line (PIL) StatisticsPIL is a Singapore-based company which was started from just 2 former Dutch ships re-named  'Kota Singa' and 'Kota Naga' in 1967. It has developed into one of the world's leading shipowners operating 95 container ships, bulk carriers and Multipurpose vessels within 50 years.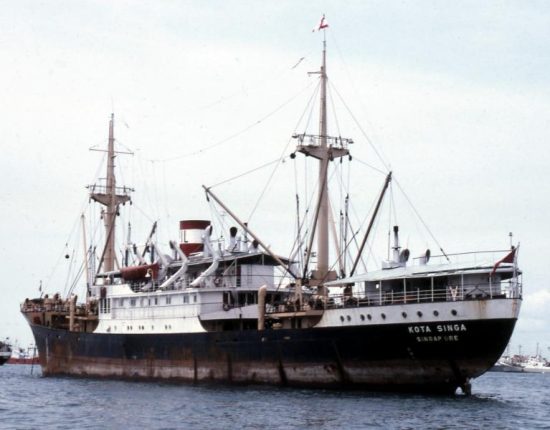 Interesting Facts about Pacific International Line:
PIL and COSCO have created a chartering pool in order to supply and exchange vessels during shipping demand peak times.

Pacific International Line has been through a difficult two years and has sold lots of assets in order to stay in black. The company has offloaded 2 more container ships

Kota Pemimpin

and

Kota Petani

(the 2018-built, 11,932 TEU sister ships) to Seaspan just in September 2020. Many experts point that PIL is about to leave Top 10 liners lists.
10. Yang Ming Marine Transport Corporation

Yang Ming is one of the leaders on the Asian market. It was founded in 1972, but has historical roots with China Merchants Steam Navigation Company which dates back to the 19th century. Yang Ming is headquartered in Taiwan; has terminals in China, the USA, Belgium and Taiwan operating on all major lines.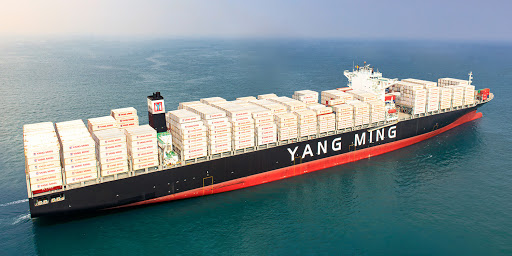 Interesting Facts about Yang Ming:
Yang Ming carried a shipment of 1700 unused Nuclear fuel rods  (two batches of nearly 20 containers each) from Taiwan to the USA following the closure of the 4th plant of Taiwan Nuclear Power Station in September 2018. Over 200 police and company officers were ensuring safety on the pier during loading.
Experts from Shippingwatch portal have counted reliability of major container lines and discovered that their punctuality has plummeted for the past years. Yang Ming's ability to arrive on time has downgraded from about 85% in time arrivals in 2011 to 65% in 2020.
The year 2020 is finally over and financial results are eloquent. The rabbit hole the maritime industry seemed to be falling into during spring appeared to be shallow.  The demand is restoring quickly while dry cargo ship owners have been quick to adopt capacities and take advantage of bunkering prices.  
Therefore, the shipping industry has once again demonstrated its resistance to any unprecedented crisis and we can reasonably hope that jobs at sea will be available as usual.    
---
Author:  Filip Drozda
Filip is a maritime professional. He has been working in the shipping industry for 25 years. Mr. Drozda is an expert in crewing for dry cargo and offshore vessels; has a strong technical background, speaks Polish, English and Russian languages.