It's been a year after we've published our article about the largest ships in the world; and this year has proven to be eventful (to say the least) for all industries. Moreover, it has shown the importance of people who do the job at sea and a key role of marine transport as a driver of the global trade. 
This piece observes the fate of the last year's favourites and presents some new breakthroughs in ship building that were delivered despite a Coronavirus chaos or are about to arrive.
Contents
The Biggest Container Ship in the World
Container Ship Market 2020
Delivery of the Next Biggest Cruise Ship Delayed
Largest Cruise Ship in the World Now
Largest Vessel in the World Proves to be Inefficient
Valemax – the World's Largest Bulk Carrier
This is a new top 5 of the biggest vessels in the world; and although the orders have been placed long before the "black swan" of a global economy has cropped up, it is somewhat reassuring to contemplate the maritime industry to move on.
The Biggest Container Ship in the World
This year's award for the biggest container ship built goes to Hyundai Merchant Marine (HMM) which launched its HMM Algeciras in April 2020. The ceremony at Daewoo Shipbuilding & Marine Engineering (DSME) shipyard was attended by the president of South Korea Moon Jae-in.
HMM Algeciras has a capacity of 23,964 TEU which surpasses the results of the 2019 record-breaker MSC Gulsun just for 208 TEU; but success is never blamed. Put that aside, the two vessels are almost identical. 
The length of HMM Algeciras and MSC Gulsun is the same and equals the standard Olympic stadium lap's length –  400 meters (1309 feet), so it will take you around 5 minutes to walk along the deck.  The beam of the newbuild is 61 meters (200 feet) which is just 1 meter wider than the last year's champion; and the height is 33.2 meters (108.2 ft).
The vessel has already taken its place on a North Europe – Asia trade lane already competing for container shipping services with its counterpart MSC Gulsun.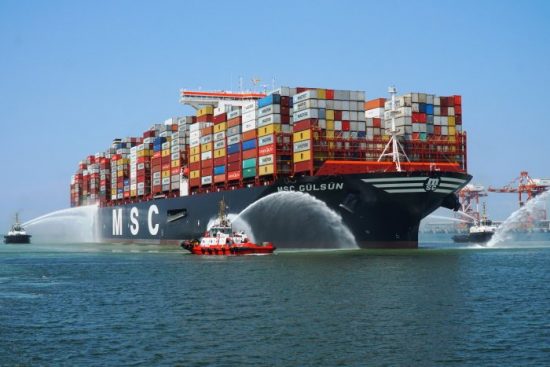 Container Ship Market 2020
Meanwhile, HMM Algeciras is only the first in the fleet of twelve 24,000 TEU-class container ships to be built for HMM by the 2 famous shipyards.
DSME and Samsung Heavy Industries (SHI) are constructing 7 and 5 mega container ships, respectively, which are expected to be delivered until September 2020. Meanwhile, Hyundai Heavy Industries (HHI) builds 8 more big container ships for the company (16 000 TEU) to be delivered starting from mid-2021.
The company's Vice President, Park Jin-Ki, explained that the orders have been placed in 2018, but they look beyond the current forecasts of a market recession and build fleet for the future.
Indeed, the containership market was hit hard by the Covid-19 pandemic consequences during spring this year. There was a considerable increase in blank sailings in February/March, i.e 188 in total (with 85 on the Asia – North America West Coast trade lane and 49 on Asia – North Europe route which appeared to be the most affected lanes).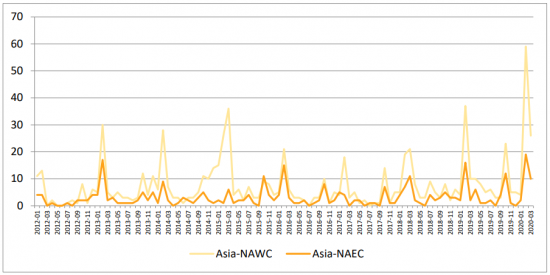 The amount of idle container ship capacity has reached 2.5 million TEU in spring 2020 while experts predict a further oversupply in the market as more new vessels are due during 2020-21.
Container ship operators are known to resort to a combination of 3 methods in order to reduce costs:

lower speed;

scrape older vessels;

cancel or delay orders for newbuilds.
We've already seen some owners redirecting their ships via the Good Hope Cape avoiding fees for Suez Canal passage and taking advantage of the low spring oil prices, so the market of container ship will survive.
Delivery of the Next Biggest Cruise Ship Delayed
The above mentioned methods are now actively employed in the cruise ship industry as well. Royal Caribbean, the owner of the present biggest cruise ship in the world, has announced that two it's much expected deliveries are delayed due to Coronavirus pandemic.
The first, Odyssey of the Seas, was about to sail in November 2020. All its cruises are canceled till April the 17th 2021.
Meanwhile, the second delayed vessel is the Wonder of the Seas which was scheduled for 2021 and should become the largest cruise ship in the world. Today it is under construction in Saint-Nazaire, France; and Royal Caribbean admit that they don't have a new timeline for its arrival.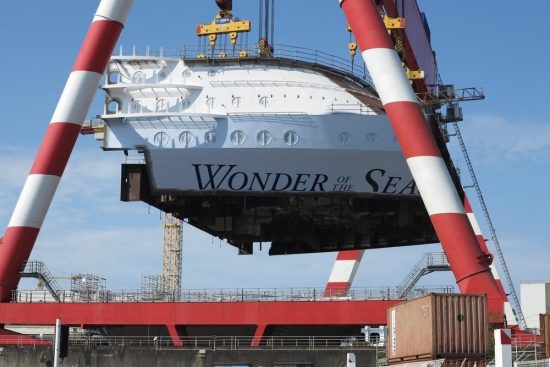 According to the original plan, Shanghai will be a home port for the Wonder and she will be cruising Asia Pacific area. The ship is set to carry above 6 000 passengers and 2 200 crew members. Otherwise, one might need 51 Boeing-737 jets to transport as many people around East Asia.
Largest Cruise Ship in the World Now
The present champion, Royal Caribbean's Symphony of the Seas, is now docked at company's private Bahama island. The Symphony measures 361 meters (1,184 ft) in length, 66 meters (217 ft) in beam, 72,5 meters in height (238 ft) and her DWT is 18 095 tonnes. There are 18 decks accommodating 6 680 passengers and 2200 crew members. 
The vessel uses up-to-date technologies like an Air Lubrication System (technology that creates a layer of bubbles between the hull and water reducing friction; an 10-15% reduction in CO2 emissions are achieved along with significant fuel economy. The Symphony is equipped with NACOS Platinum navigation and DP system which makes her passage so smooth that passengers tend to forget that they are on board.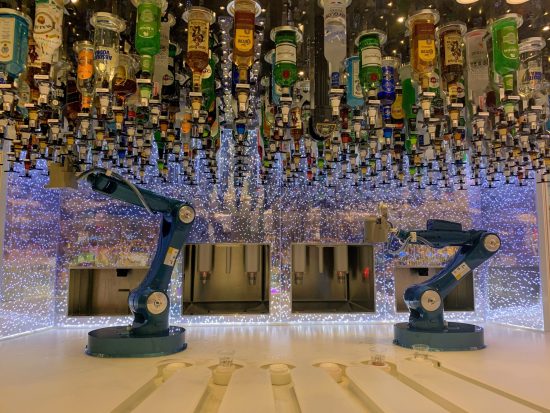 The more so because Symphony of the Seas has so many attractions inside. We've already wrote about a copy of New York' Central Park, a 10-storey slide called an "Abyss" and  surf-simulator. But how about Bionic Bar where two robotic bartenders prepare and serve your cocktails or an Ultimate Family Suite with a slide from kids bedroom to the living room?
On the 24th of July American CDC (Centers for Disease Control and Prevention) has extended its ban for cruises till the 30th of September 2020 and still reviews Covid-19 onboard prevention plans, so the entire industry is on hold till mid autumn.
Largest Vessel in the World proves to be Inefficient
There was little sensational in a paragraph devoted to tankers last year. Four biggest TI class supertankers were built between 2001 and 2003; they are 380 meters (1 247 ft) long, 68 meters (223 ft) in beam and carry 3,2 million barrels of crude oil. 
Nothing has changed since last year except for TI Europe and TI Oceania temporarily conversion into FSOs during the uncertain times of spring 2020 (read more in our Tanker Market Outlook 2020 -2021).
There have been a lot of changes, however, for the world's biggest vessels, FLNG Prelude, during this year. We wrote about it in the Offshore Giants article; and it's really impressive. 
The idea was to develop a remote gas basin some 200 km off Australia coast where no pipeline could transport gas to an onshore liquefaction plant. Therefore, Shell has constructed a floating LNG plant which can be fixed over the basin and develop it on the spot. 
FLNG Prelude is 500 m long, 74m wide; capacity of her gas stores equals 175 Olympic size pools and she requires 840 engineers and crew members for her day-to-day operation. She shipped her first gas in July 2019 and was forced to stop production in January 2020 due to safety issues in the liquefaction unit.
The immediate problem for Prelude is to satisfy the requirements of Australian National Offshore Petroleum Safety and Environmental Authority (Nopsema) which took an issue with the vessel's backup diesel power unit. However, the date of FLNG's restart is still unknown.

Shell has never disclosed either full operational or construction costs of the unit. Experts believe it to be around USD 12 – 17 billion, so taking into account present ground-level oil and gas prices, Prelude has fast turning into a liability for the company.
Same reasons might detain the arrival of the world's' largest LNG tanker we wrote about. Chinese Hudong-Zhonghua Shipbuilding (Group) Co. Ltd. works in partnership with DNV GL to develop a new vessel with the capacity to carry 270,000 cubic meters of LNG. Neither company have announced dates of delivery.
Valemax – the World's Largest Bulk Carrier
The 2nd-generation Valemax Bulkers still prove to be largest and most efficient in the world. The class derives its name from the Brazilian mining company Vale S.A. As of July 2020 there are 68 such bulkers in world.
Valemax bulker (VLOC) measures 362 m (1188 ft) in length which is 40 meters (131 ft) bigger than Eiffel Tower. It is also 65-meters (213 ft) wide that is the standard width of a soccer pitch.  But their most important feature is an ability to carry 400 000 tons of iron ore with an average speed of 15 knots making a journey from Brazil to China (the largest importer in the world) in 45 days.
The timing is everything here as Brazil competes with Australia in the Asian market; and it takes 15 days only to cover the distance from the mines to Chinese ports for Australian vessels. Therefore, Valemax bulkers should offer some really convincing advantages:
VLOC can transport more cargo per one trip;

16 000 tons of ore are loaded per hour;

Valemaxes are designed to sail for 30 years;

VLOC have received Green Seal for releasing 35% less CO2 compared to standard Capesize Bulk Carrier.
There will be no record-breaking in dry bulk sector in a short time perspective. The newbuilding orderbook is shockingly low at the moment (7.4% of the fleet); and experts agree that there might be even some shortage of vessels once the Covid-19 turmoil ceases and normal demand is restored in the market.