10. Quantum of the Seas
9. MSC Meraviglia
8. MSC Virtuosa
7. MSC Grandiosa
6. Mardi Gras
5. AIDAnova
4. Oasis of the Seas
3. Allure of the Seas
2. Harmony of the Seas
1. Symphony of the Seas
Future Largest Cruise Ships
Outlook for Cruise Shipping Industry in 2021-2022
Last year the Internet was full of cheerful videos listing the top 10 cruise ships able to fairytale any holiday or promising new cruise liner launch. What did they have in common? All of them were made in 2019 when nobody could have imagined that the whole pleasure cruise industry would remain under the no-sail order for a year and jobs at sea on cruise ships would become redundant all over the world. 
The largest cruise provider, Carnival Corporation, pointed in their 2020 report: "We have never previously experienced a complete cessation of our cruising operations". Indeed, cruise companies have struggled through the exorbitant costs of passengers repatriation, supporting quarantined crew and guests; and still face lawsuits from customers and employees.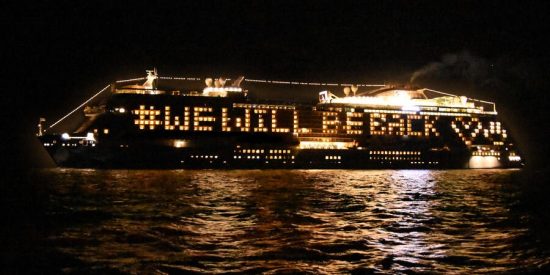 David Bernstein, chief financial officer of Carnival Corporation reported at the end of its fiscal Q (February 28, 2021) that the company had built a healthy liquidity to sustain it up to the 2022 season ($11.5 billion in cash and short-term investments). Meanwhile, he projected a monthly cash burn of approximately $550 million for the first half of 2021. Therefore, cash generation must become the primary goal once the cruise industry is allowed to operate at a full capacity.
It has been a year since the historical lockdown started in the USA and Europe, so let's have a closer look at the cruise ship industry today while checking the top largest 10 cruise ships in 2021.
As we have predicted, MV Norwegian Bliss (GT 168 028), MV Ovation of the Seas (GT 168 666) and MV Anthem of the Seas (GT 168. 666) have left the TOP 10 bill squeezed by newbuilds. Therefore, the 10th place is now occupied by Royal Caribbean's MV Quantum of the  Seas.
10. Quantum of the Seas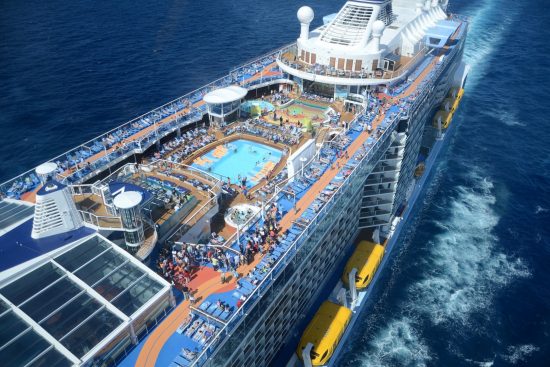 The flagship Quantum class vessel which on her arrival in 2014 set a new standard for the cruise shipping industry. There is a variety of comfortable indoor pools; huge fitness center, rollerdrome, ice bar and the highest rock-climbing wall at sea. They've also incorporated bracelets instead of habitual cruise cards and developed new quality policies for people seeking a job on cruise ships.        
Due to the continuing operations restriction in the USA, Quantum of the Seas is today re-deployed to Singapore at least until June 2021. 3 or 4-days cruises are available for Singapore residents only despite the dragonish safety and health measures employed on board (Covid 19 testings, reduced sailing capacity and social distancing).

9. MSC Meraviglia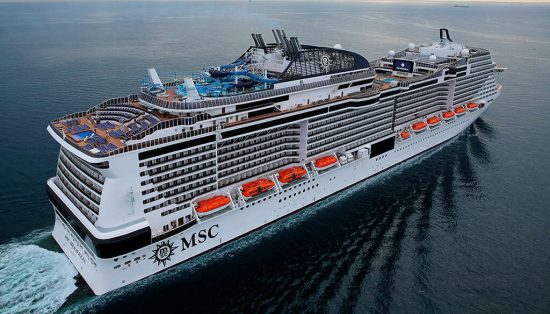 The flagship of MSC Cruises has moved from the 6th place of our 2020 report. Today MSC Meraviglia is only the 9th largest cruise ship in the world, but she has set a standard for newer ships, i.e. stylish interiors reminding of the Italian Renaissance coupled with facilities of a top cruise liner.
MSC Meraviglia was relocated from its Mediterranian itinerary to the USA in 2019 as a part of the company's US market expansion program. Indeed, the reputable Readers' Choice Award 2019 by Conde Nast Traveller magazine features MSC Cruises as the number 2 best cruise company in the world (after RCI). Meanwhile, U.S. News placed the company in the 7th place only at their 'best cruise ship deals' rating.
Nowadays MSC Meraviglia is homeported in Miami and will start 7-days Caribbean cruises in early June 2021. The itinerary includes Jamaica, the Cayman Islands, Mexico and MSC Ocean Cay (company's private island).
8. MSC Virtuosa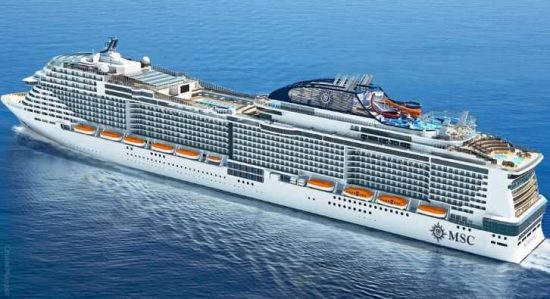 The delivery of MSC Virtuosa was delayed due to the Coronavirus turmoil. First voyages were originally planned for November 2020. Instead, she arrived on February 1st,  2021 and is slated to start voyages from May.
The new flagship will be cruising British Islands during 3 and 4-nights sails departing from Southampton. Embarkation from Liverpool and Greenock (Scotland) will be available starting from June when 7-night tours are added to the itinerary.  
For the present, only UK citizens will be admitted on board; although, MSC welcomes non-vaccinated travellers contrary to Royal Caribbean.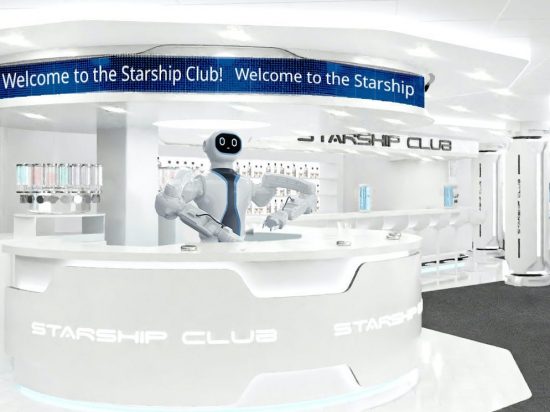 As usual, MSC has added some new attractions to the newbuild such as MSC Starship Club with the first humanoid robotic bartender at sea called Rob, record-breaking retail space with the longest LED Dome at Sea and The Atmosphere Pool which measures 1.700 m2 and provides about 10 m2 of public space per guest.
7. MSC Grandiosa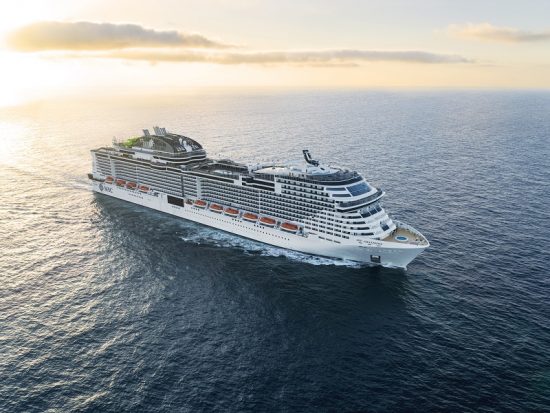 One more MSC's newbuild which inauguration season was marred by the Covid-19 pandemic. The beautiful Meraviglia-plus class vessel was delivered in late October 2019.
After a colorful christening by Sophie Loren (one of the vessel's sponsors), MSC Grandiosa left for Mediterrania. The original plan was to transfer her to Brazil in August 2020 where the ship would become the largest vessel registered in South America.
However, MSC was forced to re-deploy all its vessels, so Grandiosa remained in the Mediterranian sea and became the first cruise ship to resume voyages amid pandemic in August 2020.
In addition to the expected facilities, MSC Grandiosa has become the most environmentally sound ship in MSC's fleet. She is equipped with a selective catalytic reduction system which converts NOx fumes into N2 and H2O reducing harmful nitrogen emission by 80%.  There is also a closed-loop exhaust gas cleaning system, so sulfur emissions are cut by 97 percent. 
6. Mardi Gras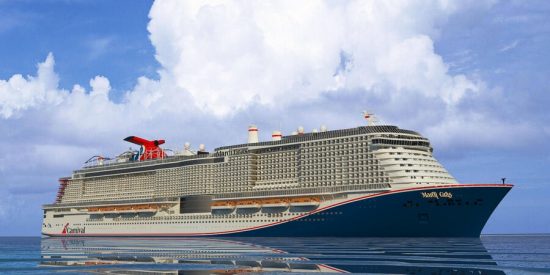 The new Carnival Cruises' flagship, Mardi Gras, was delivered in December 2020, but her debut still hangs in limbo. Her maiden voyage was about to start on April 24, 2021 from Port Canaveral (Florida) where they have built a special terminal able to host this beauty. But on the 6th of April Carnival announced that it takes a pause for sailing till the end of June, meaning that Mardi Gras is delayed again.
Mardi Gras is named after the first vessel owned by the company TSS Mardi Gras which used to be in operation from 1972 to 1993. Nowadays, she will become the first such big vessel powered by LNG in America. 
Mardi Gras features a distinctive design as well. Her hull is blue with white and red accents. This is done for the marketing purposes as Carnival is set to position itself as "America's Cruise Line."
However, the most intriguing feature of this new Carnival's flagship is the 'Ultimate Playground Zone' with the first shipboard roller-coaster 'Bolt' able to ride at 40 mph (64 km/h).
5. AIDAnova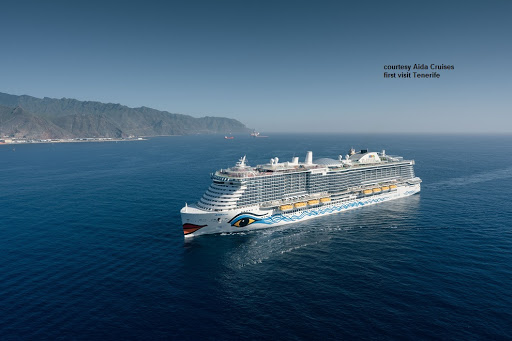 AIDAnova remains the largest AIDA Cruises' vessel as AIDACosma's delivery is delayed. We've described AIDA Nova in our  Shipping 2030:New Technologies in Maritime Industry article as the first fully LNG-fueled cruise ship.
Her delivery was inhibited by constructional difficulties as she pioneered the way for LNG propulsion into the cruise shipping industry. However, the experiment has proven to be successful, so we see the whole list of future deliveries equipped with a green propulsion.
 4. Oasis of the Seas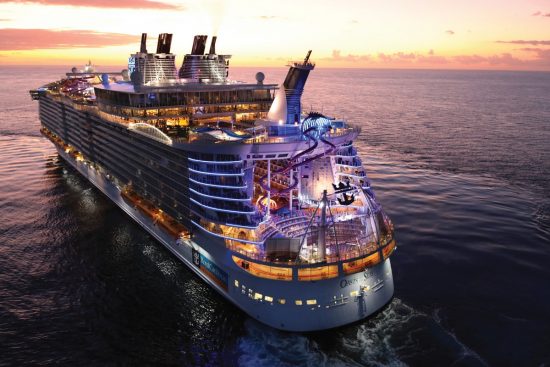 The very first from the Oasis-class vessels which is now a trend-setter is the world of cruising. The Oasis of the Seas was originally delivered in 2009; then seriously refurbished in 2018. 
Here they first have introduced the 'neighbourhood' concept meaning that the vessel is divided into theme zones (neighbourhoods); more space is provided for guests literally, so crowds don't annoy despite the formidable number of people on board. Special features of this class such as huge slides, bionic bar, surf simulator and the Central Park also are in place. 
Interesting fact about the size of the Oasis class. The vessel was built in Turku, so had to pass under the Great Belt Fixed Link bridge on her way out from the Baltic Sea. The normal clearance of the bridge is 65 m (213 ft) while the height of the Oasis is 72 m (236 ft).

As a result, they had to dismantle telescopic funnels and approach the bridge at a speed of 22.5 knots to use the squat effect (vessel in shallow waters is drawn deeper at a high speed). The Oasis has passed the bridge with less than 60 cm (27 in) of clearance.
3. Allure of the Seas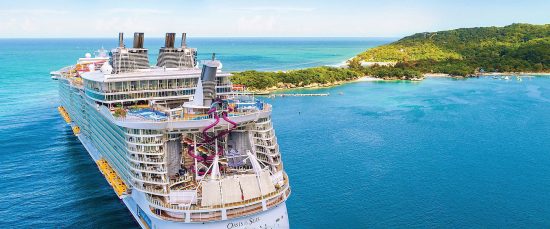 Allure of the Seas belongs to the same Oasis-class vessels owned by Royal Caribbean and is just 50 millimetres (2 in) longer than the Oasis. Otherwise, the two vessels are almost identical; the more so because the Allure has undergone a massive refurbishment in 2019 and is now equipped with the latest amenities of its class.
Another interesting fact about Oasis class. Displacement of these vessels reaches 100 000 tons which equals that of an american nuclear-powered aircraft carrier.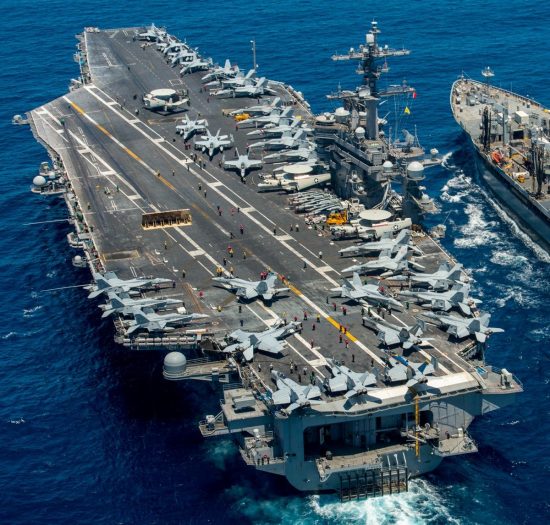 2. Harmony of the Seas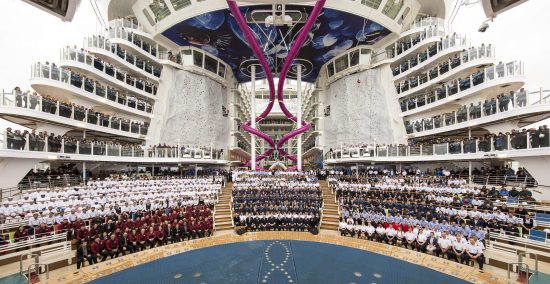 The second largest cruise ship today, Harmony of the Seas, by Royal Caribbean is one more Oasis-class vessel. Therefore, there are usual Central Park, Abyss Slide, 23 pools and other amenities that made these vessels best in the industry.
Meanwhile, the Harmony was the first vessel where the air bubbles technology was introduced (the system generates a constant flow of air bubbles around the hull to reduce resistance). 
More interesting facts about the size of these vessels are provided by RCI. As there are more than 6 500 guests on every cruise they usually eat more than 5 000 dozen eggs, 100 gallons of chocolate ice cream, 2 100 pounds of lobster tail and 2 500 pounds of fresh salmon during a 7-days tour. Good thing they have got about 1 300 catering personnel on cruise ship to manage it all. 
1. Symphony of the Seas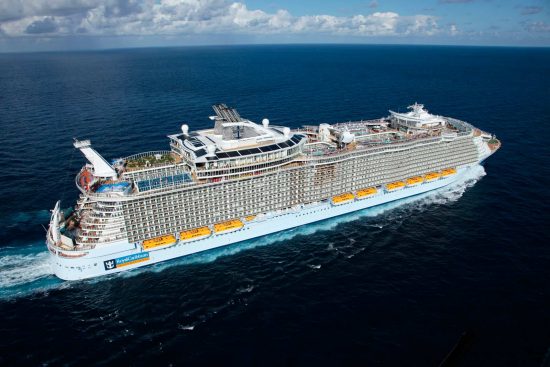 The largest and most luxurious cruise ship today still is Symphony of the Seas. We made a detailed account of her in our Largest Ships in the World 2020 article; and although it is only slightly bigger than her sister ships, she is huge compared to other vessels.
The ultimate interesting fact about Oasis mega-ships: the Symphony is twice as tall as Titanic, twice as wide and 100 m longer making her 5 times bigger than Titanic.

Future Largest Cruise Ships 
Have not seen enough big cruise ships? Do have a look at future champions from Royal Caribbean and MSC.
Wonder of the Seas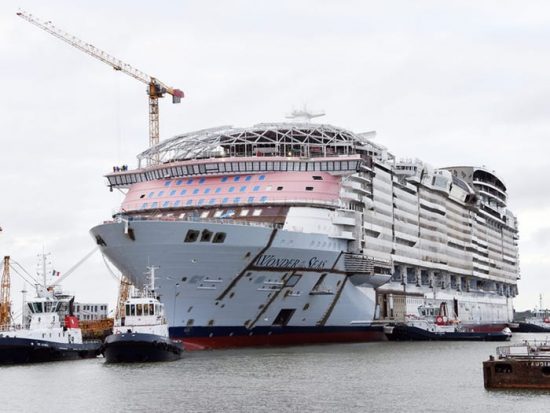 Royal Caribbean builds its final Oasis-class vessel which might become the next largest cruise ship in the world. The launch of Wonder of the Seas was originally planned for the  spring 2021 with the vessel home port becoming Shanghai. However, due to the Covid-19 economic turmoil, the debut is postponed till 2022.
MSC Cruises World Class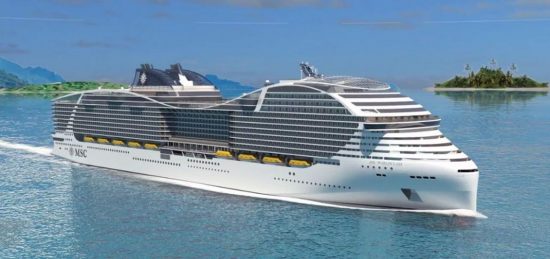 The competitor for the 'next largest cruise ship' title is  MSC Cruises' new vessel which is due to arrive in 2022 as well. It will have a GT of 200,000 providing  even more space for passengers.
The vessel remains yet unnamed and its construction was also inhibited by the pandemic. 

Outlook for Cruise Shipping Industry in 2021-2022
Cruise ship industry is gradually returning into operation, but remains affected by the pandemic, so the present situation is best described as volatile. 
For instance, Royal Caribbean and Carnival offer cruises avoiding US waters and sail at 30% – 50% occupancy. MSC and other European cruise lines have resumed operation earlier (during summer 2020), but have to adhere to severe safety and health regulations as well.
Moreover, European lines don't require cruisemakers to be Covid-19 vaccinated (negative test made within 72 hours is considered enough); while, Royal Caribbean states Covid-19 vaccination as an obligatory condition to board.
Florida Governor Ron DeSantis adds fuel to the controversy by filing a lawsuit against CDC and Biden's Administration. His position is that no sail order was excessive; it has paralized American cruise ship industry for a year and should be lifted immediately. In addition, he speaks against mandatory vaccination of travellers pointing that it restricts the rights of people with adverse health conditions.
The general mood is to resume full capacity operations during summer 2021. Most companies have developed roadmaps for a concise ship by ship restart. Royal Caribbean, for example, is set to relaunch its middle-sized vessels and resume cruises from Nassau from June 13, 2021.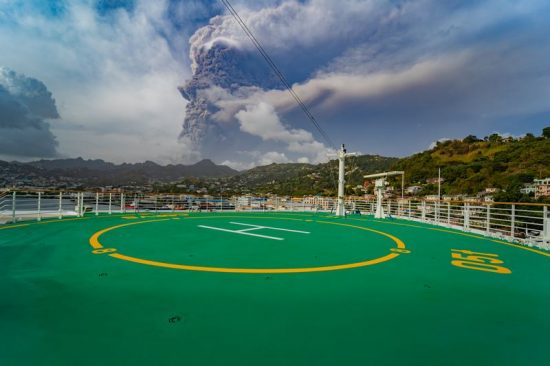 We have seen so many delays during the past year, so it seems pointless to speculate further. The good thing about the cruise ship industry's lockdown is that 4 giant cruise ships were able to arrive at St. Vincent on April 10, 2021 to assist with a massive evacuation caused by volcano eruption. 
---
Author:  Filip Drozda
Filip is a maritime professional. He has been working in the shipping industry for 25 years. Mr. Drozda is an expert in crewing for dry cargo and offshore vessels; has a strong technical background, speaks Polish, English and Russian languages.