Have you ever considered how ships will look like in future?  Experts claim that we were standing on the verge of the 4th Industrial Revolution which is bound to bring new technologies to the maritime industry and transform our understanding of global shipping forever.
Climate change is another ever-pressing topic that influences the development of the shipping industry. We have collected some key features of 2030 merchant vessel in this article. You will also find experts' opinions about technologies and materials which will be used in the next 10 years as well as their answer to the question whether jobs at sea  will still be available in future or men find themselves replaced completely  by robotics.
Hybrid propulsion systems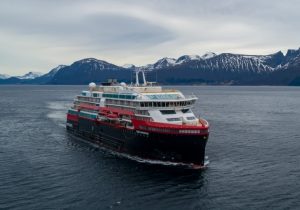 Lloyd's Register (LR) in partnership with the University of Southampton has submitted the famous "Global Marine Technology Trends 2030" (GMTT 2030) report almost five years ago. They have stated that hybrid propulsion systems would eventually oust conventional fossil fuel engines because shipping is forced to adopt measures to reduce CO2 and NOx emissions.
Today we can confirm that their forecast has scored. For instance, Norwegian cruise operator Hurtigruten LTD is preparing to launch two large hybrid cruise ships MS Roald Amundsen and MS Fridtjof Nansen in 2019 and 2020 accordingly. 140-meters long vessels are powered by hybrid engines; so their glide through Antarctic and Svalbard stunning sceneries will be conducted in a complete silence.
Alternative Fuel
Maritime industry continues to seek a replacement for a diesel engine.  Another option mentioned in the Shipping 2030 report refers to an alternative fuel. At present the following substances are researched and tested as a possible alternative to a fossil fuel:
Image Credits to theMaritime Executive

Green Maritime Methanol consortium researches the cost and expediency of methanol fuel systems' installation on board. They have selected 9 vessels from designs to existing ships of Boskalis, Van Oord, the Royal Netherlands Navy and Wagenborg Shipping. The vessels vary from 40 to 160 meters in length, from 300 to 23 000 dwt in tonnage; and from 1 to 12MW in the installed power.

Moreover, Viking Cruises builds the first cruise ship fueled by liquid hydrogen. The newbuilding will be 230-meters long and able to accommodate 900 passengers and 500 crew members.
Hydrogen fuel cells, mentioned in the GMTT 2030 report, have recently received an approval-in-principle for maritime use from DNV  GL. They have already been used at cruise ships for some time helping to power hotel zones. Meanwhile, the present approval covers PEM (Proton Exchange Membrane) fuel cell systems from smaller modules of just a few hundred kilowatts to multi-megawatt units; so now developers will be able to test hydrogen fuel cells as an alternative power plant for large vessels.

Image Credits to pazzoperilmare.it

LNG fueled vessels have become our reality in a view of 2020 Global Sulphur Cap. Today there are 135 LNG-powered ships in the world (hybrid engines) and 1 fully LNG-fueled cruise liner by Carnival Cruises, AIDANova, which was delivered in December 2018. There are also 140 vessels with LNG hybrid engines in construction to be ready by 2025.
All in all, experts involved in fuel researches agree that future ships might be larger and have different design in order to accommodate LNG, hydrogen, methanol or other alternative fuel tanks. But the initial goal of lowering carbon dioxide emissions will be reached by 2030.
Nano-materials and Self-healing Substances
The ship building technologies are going to benefit a lot from the 4th Industrial Revolution, i.e. there will be some changes in ship materials. Steel will be strengthened by new anti-corrosion coatings as advanced aluminium, glass-  and carbon-fibre composites arrive.  These new materials facilitate fuel economy, increase speed and prevent hull corrosion.
Shipping 2030 report's developers also claim that future ships will make use of self-healing materials. This is a class of synthetically created substances which includes polymers, elastomers, metals (e.g. aluminium alloys), ceramics, etc. In case of structural damage, they repair themselves on an atomic or molecular levels that allows reducing the cost of repairs significantly.
Incidentally, ship repairs might become less frequent as surveys and vessel inspections will be conducted by drones assisted by augmented reality (AR).  Maritime authorities, e.g. Mr. Arun Sharma, Executive Chairman of Indian Register of Shipping (IRClass), believe that such real-time inspections will be useful since they are less disruptive for the vessel's crew and will detect troubles early.
Internet of Things (IoT) in Shipping
Internet of Things (IoT) is one more technology that will facilitate the above mentioned inspections. IoT means connecting onboard equipment to shore systems for data analytics so as to improve vessel's performance; and it already makes ships faster, safer and more fuel efficient.
The 2018 Inmarsat Maritime's research has revealed  that 60% of shipping companies' employees consider themselves either IoT 'laggards' or 'starters'; meanwhile 35% perceived themselves as 'leaders' and 5% as 'progressives' users of Internet of Things technology.
These deplorable results are going to change as, according to the research, 47% of vessel operators  already use IoT for the fuel consumption monitoring and still more companies plan to invest in IoT technology to control operational costs or improve route planning.
The main concern, though, is cyber security since many older onboard devices haven't been developed for outside network connection, so they become an easy target for cyber attacks.
Artificial Intelligence (AI) replaces Dynamic Positioning
Even more complicated technologies take over bridge control. AI-based bridge systems evolve from an existing Dynamic Positioning technology. DP console is combined with an advanced software/device which can learn, analyze and predict the future position of the vessel.
An exponential growth in the development of artificial intelligence (AI) will allow using computers to analyze future course and maneuvers of the vessel in order to raise situational awareness of the crew and improve decision making.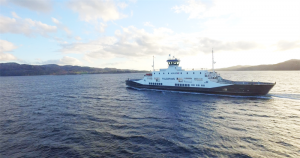 The first trials of such technology are underway. 85-m long ferry Folgefonn has successfully completed tests of automated docking system in the late 2018. She made three port calls, maneuvered her way to and from narrow Norwegian harbors, navigated and docked without human assistance.
The passage was controlled via a series of tracks and waypoints which guided the ship to her destination. Meanwhile, an autonomous controller, based on existing Wärtsilä's DP system, controlled the vessel's speed, position on the predefined track and heading.
Joonas Makkonen, Vice President for Wärtsilä Voyage Solutions, believes that "This represents a huge step forward in validating automated shipping solutions".
Robotics and Autonomous Navigation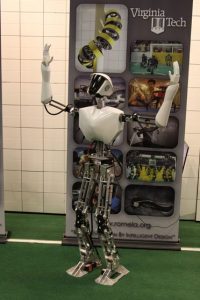 Will there be any crew on board of ships in 2030? It seems that with new technologies in the maritime industry and rapid development of artificial intelligence human presence onboard will be irrelevant.
In fact, most future ships will accommodate crew onboard. However, the number will be reduced and people will be assisted heavily by an advanced technology in order to avoid the majority of today's maritime accidents. Moreover, dangerous tasks will be done by robots.
Indeed, the era of maritime robotics has arrived. Naval Research Laboratory in collaboration with Virginia Tech and other US universities has recently developed Shipboard Autonomous Fire Fighting Robot (SAFFiR). It can't replace humans yet, but is able to withstand smoke and temperatures up to 500oC; meaning that it can  be sent to open water valves, bring hoses and look for remaining people in the places otherwise inaccessible to men.
"HullBUG" developed by SeaRobotics is in demand today as it cleans vessel hull effectively helping to reduce fuel consumption. The robot is a small autonomous vehicle (between 30 to 40 kg). It has four wheels and attaches itself to a hull using a negative pressure device which creates a vortex between the BUG and underbelly of the ship. It crawls on the hull surface and performs light cleaning of fouling films. Navigation is done by sensors.

Image Credits to Rolls-Royce

MUNIN – robotic vessel. The acronym stands for Maritime Unmanned Navigation through Intelligence in Networks. The vessels design is developed by Rolls-Royce within one of series ambitious European projects devoted to the development of Autonomous navigation. We described one of them in our previous article Top Container Shipping News.
According to Autoship initiative 2 autonomous ships will be launched in 2020.They will be supported by crews of 7 to 14 people at the first stage of the project; and become unmanned within 3,5 years.
Meanwhile, MUNIN is an unmanned remote controlled cargo ship; and its appearance is scheduled approx. for 2030 in a Rolls-Royce timeline. The technology should be refined and maritime legislation ready by that time. At present, there are still no IMO resolution on Autonomous and Remotely Operated Ships, while DNVGL has released its guidelines in late 2018 only.
Unmanned vessels (with no superstructure and accommodation units) are designed from the scratch and will constitute a separate shipping segment. They require own infrastructure (different operational terminals, engineers, Shore control centers, integration into electrical grid). Therefore, there will be some time before autonomous navigation will replace conventional vessels despite its claimed commercial and safety advantages.