People often wonder which is the biggest port in the world. US Google alone registers above 500 such queries every month, but the result of this search often proves to be rather boring. 
Port statistics mostly include the busiest ports in the world. Therefore, all of them are container ports and 9 out of 10 are located in SouthEast Asia. In addition, 6 of the 10 world's biggest ports are Chinese. This is logical enough as China produced 28.7 percent of all manufactured goods in the world in 2019 (according to the UN Statistics division) exporting USD 2.6 trillion of goods. Naturally, the country needs facilities to transport these volumes. 
Meanwhile, such a rating makes a rather monotonous reading, so we have produced a different Top 10 list which includes not only the largest container port in the world, but oil and gas and even biggest cruise ship terminals.
---
---
The Largest Sea Port in the World
Port Of Shanghai in China has been both the largest and the busiest port in the world since 2010 when it overtook Singapore. For instance, Shanghai port handled 43.3 million TEUs (twenty-foot equivalent units) during the year 2019 that stands for above 750 million tonnes of cargo.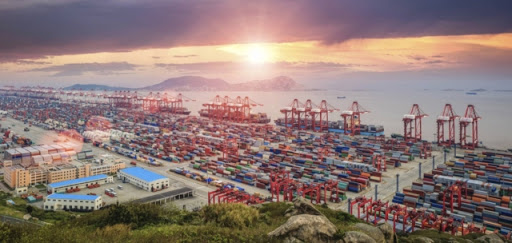 Facts and figures about the Port Of Shanghai:
The port is located in the mouth of Yangtze River, so incorporates both deep-sea and river ports.

The Shanghai port occupies 3,619.6km² which means that it is three times bigger than the entire Hong Kong SAR (1.104km2).

There are three main container port areas (Wusongkou, Waigaoqiao and Yangshan) equipped with 43 berths and 156 quay cranes; they are able to process 15 million shipping containers per year or above 41 000 containers a day. 

According to the Chinese authorities, in October 2020 container throughput in Shanghai hit a record of 43.3 million TEUs showing an increase of 15.7 percent compared to 2019.  

Today Shanghai port digests more than 25% of all outbound cargo traffic in China.

Top 10 Busiest Container Ports in the World
The Port of Shanghai overtook Singapore back in 2010. Today the second busiest port in the world handles about 37 million TEUs per year; and the rest of the record breaking ports can be seen in the diagram below (data credits to VisualCapitalist).
Shanghai – 43.3 million TEUs per year

Singapore – 37.2 million TEUs per year

Ningbo-Zhoushan, China – 27.5 million TEUs per year

Shenzhen, China – 25.8 million TEUs per year

Guangzhou, China – 23.2 million TEUs per year

Busan, South Korea – 21.9 million TEUs per year

Qingdao, China – 21 million TEUs per year

Hong Kong – 18.3 million TEUs per year

Tianjin, China – 17.3 million TEUs per year

Rotterdam, NL – 14.8 million TEUs per year
The Largest Port in Europe
Port of Rotterdam is the largest port by size in Europe and the only 'western' port in the list. During the period from 1962 to 2004 it used to be the biggest port in the world by cargo volume, but Asian ports have long overtaken European harbours spurred by intensive manufacturing capacity of their countries. Nevertheless, the port of Rotterdam still appears to have some trump cards in its pocket.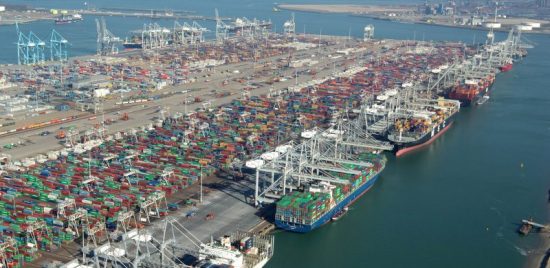 Facts and figures about Port of Rotterdam:
The port handled 14.8 million tonnes of goods during the year 2020.

Unbelievably, but the financial results of the port improved in 2020 compared to the year 2019. The net result was EUR 351.7 million.

The port of Rotterdam has received 28 170 sea-going ships and 92 552 inland vessels in 2020.

43.7% of all cargo in the port is crude oil, oil products and LNG. 

The combined added value of the Port of Rotterdam (above EUR 45.6 billion) represents 6.2% of the Dutch gross domestic product (GDP).
The Largest Oil Port in the World
According to the U.S. Energy Administration statistics, more than 61% of the world's oil transportation is conducted by sea meaning that around 59 million of barrels are carried by crude oil and oil products tankers every day. 
Such volumes require solid port solutions able to provide connection between marine oil carriers, storages and refineries. 
Number of oil ports in the world by country (as of 2018)*
*Data credits to Statista.com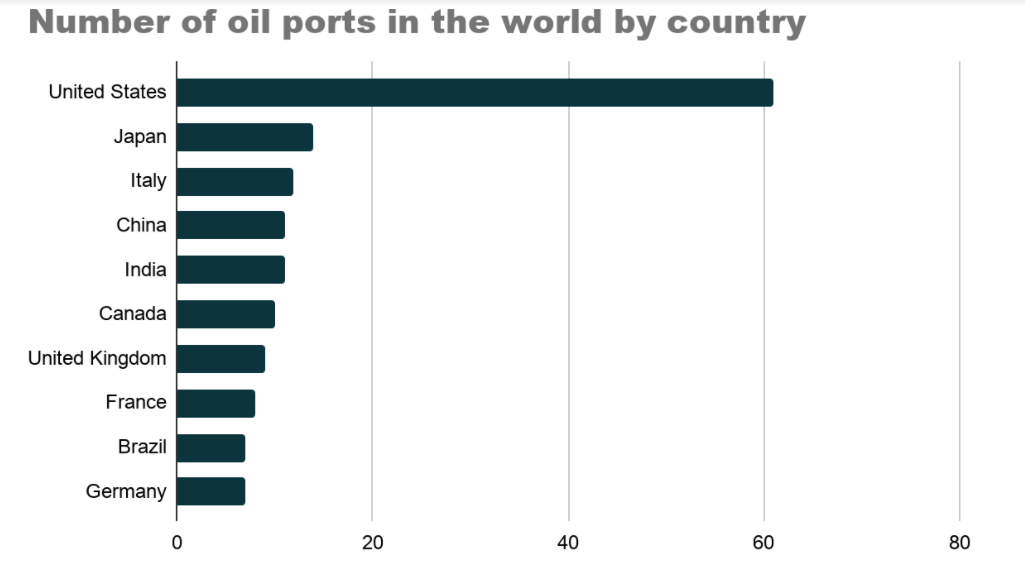 Louisiana Offshore Oil Port (LOOP)
The Loop is the biggest offshore oil port in the world located 29 km (18 nm) off the Louisiana coast. The facility handles about 13% of crude oil imported to the US which is above 1.2 million barrels (190,000 m3) a day. The LOOP is equipped with a pipeline reaching 50% of all the US refineries. 
The LOOP consists of 3 Single Buoy Mooring (SBM) stations, Marine Terminal and Onshore storage facilities.
Facts and figures about the Louisiana Offshore Oil Port:
Since its opening in 1981 Louisiana Offshore Oil Port has processed 14+ billion barrels of crude oil.

SBM stations are built to handle tankers up to 1 200 ft  (366 m) long, therefore ships bigger than the Empire States Building can offload and be onloaded safely. 

Tankers connect to SBMs with hoses to pump oil. Then the crude is transported to the Marine Terminal via a 56-inch (1.4 m) diameter underwater pipeline. 

29 km from the shore effectively put the LOOP outside the USA territorial waters. Special provisions have been made to ensure that it remains under the US jurisdiction.

Onshore storage can accommodate 60+ mln barrels in eight underground caverns. 
The Biggest Cruise Ship Port in the World
The largest cruise ship port in the world is the Port of Miami. It is conveniently located in Biscayne Bay, so is connected both to Miami Downtown by Port Boulevard and Watson Island through the PortMiami Tunnel.
Facts and figures about MiamiPort:
Before the disastrous 2020 pandemic year the port of Miami employed 176 000 people. Such an impressive number was achieved as the port includes a major cargo terminal as well.

Miami is a home port for such companies as Royal Caribbean, MSC Cruises, Disney, and Virgin Voyages.

There are 11 cruise ship terminals in the port; most of them belong to cruise ship owners including

t

he largest cruise terminal in the U.S. (Terminal A) that has been built to handle passengers of

the biggest Royal Caribbean vessels

.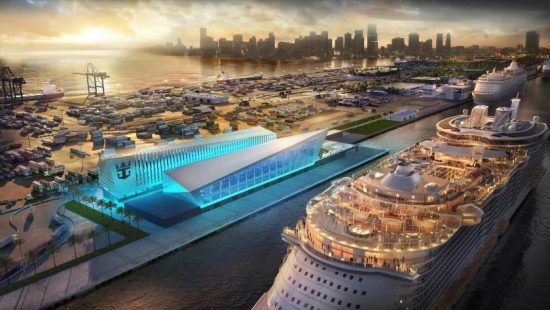 Today the cruise ships return to MiamiPort for service and supplies only. Most companies keep the bare-bone staff onboard (about 125 crew members), so port businesses suffer severely especially given that non- US citizens are not allowed to go ashore.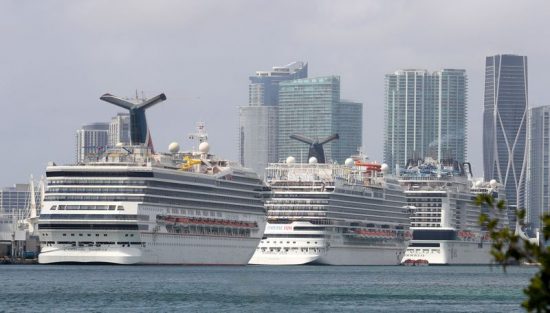 CDC promises that the American cruise ship industry will resume operations by mid-July 2021 on condition that 98% of the crew and 95% of passengers on board will be fully vaccinated against Covid-19.
Despite the current depressing statistics it is interesting to check the normal state of things in the cruise ship industry. In accordance with NAFTA Region Port Cruise Traffic 2014-2016 and other sources the ten world's busiest cruise ports usually handle around 32.3 million cruise ship passengers every year (2016 – 2017 figures).
Top 10 Busiest Cruise Ports in the World
MiamiPort (USA) – 5 million passengers per year

Port Canaveral (USA) – 4.3 million passengers per year

Port Everglades (USA) – 3.8 million passengers per year

Port of Cozumel (Mexico) – 3.6 million passengers per year

Port of Nassau (the Bahamas) – 3.5 million passengers per year

Port of Shanghai (China) – 2.9 million passengers per year

Port of Barcelona (Spain) – 2.7 million passengers per year

Ports of Out Islands (the Bahamas) – 2.6 million passengers per year

Port of Civitavecchia (Rome, Italy) – 2.2 million passengers per year

Port of Galveston (USA) – 1.7 million passengers per year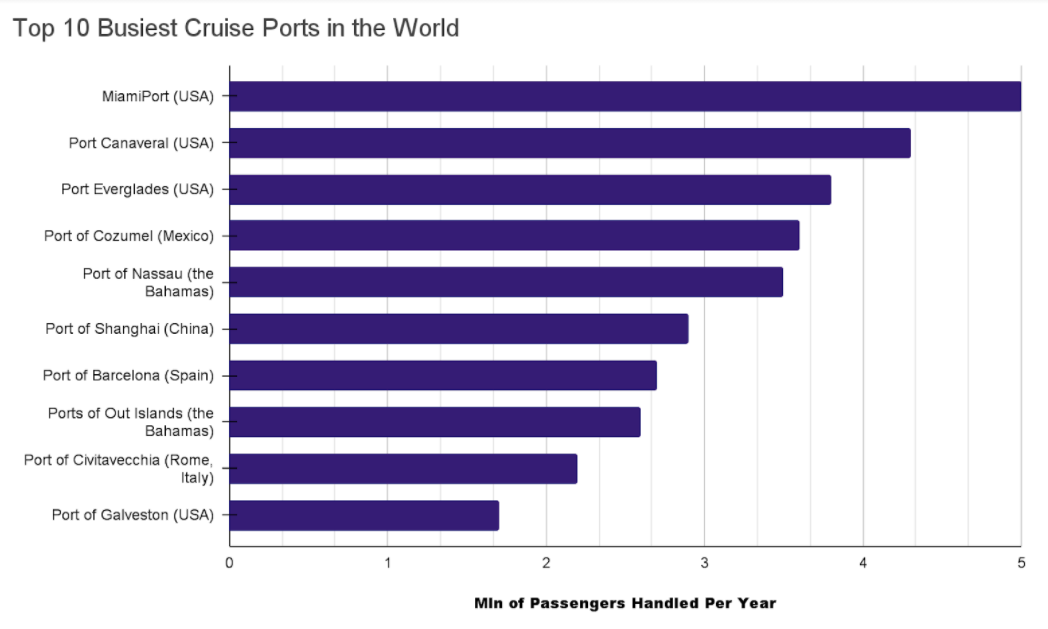 The Biggest LNG Port in the World
The world is changing rapidly and natural gas takes over oil products and coal. As a result, giant gas terminals mushroom all over the world.
The largest sea port in the world for LNG/LPG cargo is the Incheon LNG terminal on the north-west coast of South Korea. Its capacity is 2,660,000 m³, so it is able to accommodate two ultra-large LNG carriers at the same time.
Image Credits to: SWZ_Maritime
Facts and figures about the Incheon LNG terminal
Incheon is owned and operated by KOGAS (Korea Gas Corporation) which is the world's largest importer of LNG.
Terminal was built in 1983.
The terminal supplies natural gas to the Incheon and Seoul metropolitan areas, which account for 40% of the country's natural gas demand.
---
Author:  Filip Drozda
Filip is a maritime professional. He has been working in the shipping industry for 25 years. Mr. Drozda is an expert in crewing for dry cargo and offshore vessels; has a strong technical background, speaks Polish, English and Russian languages.