This year is full of notorious shipping accidents. There is hardly a person who hasn't heard about the Suez Canal blockage by M/V Ever Given while shots of fire on X-Press Pearl kept news columns busy for an entire week.
We have made a list of the biggest maritime accidents of 2021 in chronological order. There is a strong feeling, though, that this bill will require an update in the future as jobs at sea will not become safer any time soon.
M/V Arvin Breaks in Two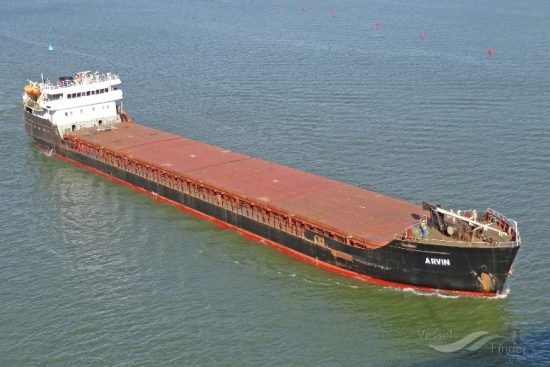 IMO number: 8874316
Name: ARVIN
Vessel Type: General Cargo
Flag: Palau [PW]
DWT: 3509 t
Length Overall x Breadth Extreme: 114 x 14 m
Year Built: 1975
Incident Date: 01.17.2021
The general cargo vessel Arvin left Georgia on the 1st of January 2021 and was en-route to Bulgaria carrying saltpetre. She was caught in a storm and strong winds near Turkey and took refuge near Bartin. 
The survivors claim that they had expected waves about 4 meters that day, but there were 6 meters swells which snapped the decrepit river/sea ship in two quite easily. Arvin was swamped and sank in about 5 minutes. The crew of 13 (11 Ukrainians and 2 Russians) had about 3 minutes to abandon the vessel. The footage shows frantic attempts to call for help and get immersion suites when the vessel breaks.
Six crew members were rescued as a result of a SAR operation by the Turkish Coast Guard vessel and helicopters. Searches were impeded by extreme weather conditions, so seafarers spent two and a half hours in freezing water waiting to be picked up one by one.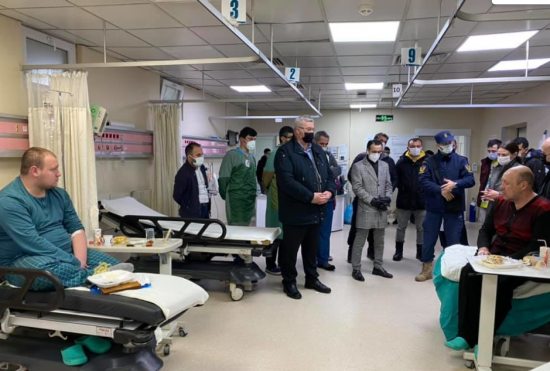 Four crew members were killed as a result of this accident including Master and 3 people remain missing. Official documents confirm that MV Arvin had been checked three times during 2020, but an uncomfortable trend is staring the maritime community in the face.
Arvin's former name used to be Volgo-Balt 189 and she was one of the 78 similar vessels (2-95a/R project) built in the USSR from 1973 to 1985. At present, 57 of these ships are still in use while 8 have sunk in the Black Sea alone during the past 20 years.
They were designed for peaceful river or summer sea navigations and crumble under the winter storms' fury. Stay safe and check the vessels you are invited to join carefully.
The Congo River Disaster 2021
When a shipping accident happens in the international waters it attracts all sorts of attention. Professional SAR crews save people using helicopters and hi-tech equipment, media provide coverage, officials from all involved countries come forward with statements and assistance.
Meanwhile, if you look at the full list of shipwrecks of 2021 you'll discover that the greatest tragedies unwind internally and are neither properly managed nor remembered. One of the grimmest loss of life happened on February the 14th this year in the Democratic Republic of the Congo.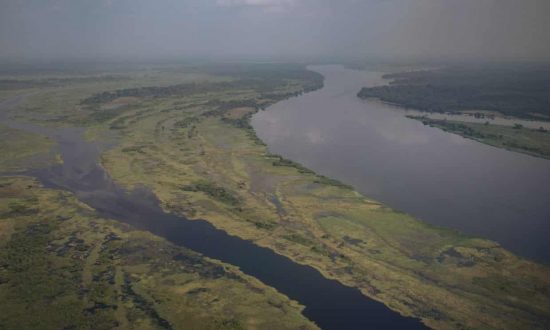 The whaling boat (presumably) was making a voyage from Kinshasa to Mbandaka with above 700 people on board and an unknown amount of cargo. Night navigation is illegal in the DRC, but the crew neglected this fact. As a result, the boat hit a rock and capsized in minutes.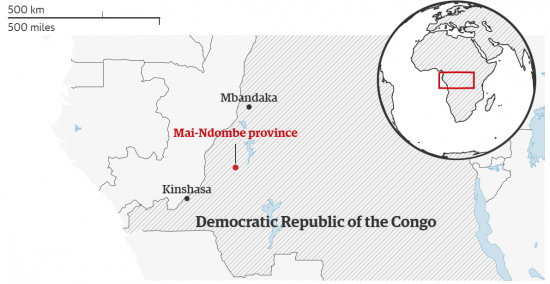 Image Credits: al-Jazeera
Minister Steve Mbikayi confirmed 60 deaths and 300 survivors that leaves above 300 people unaccounted for. 
Similar shipping accidents with an atrocious loss of life can be uncovered in Bangladesh, Libya, Yemen and so on.
Cocaine Smugglers Sink Tanker Nehir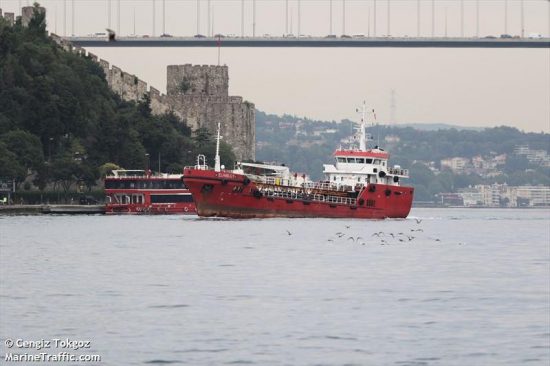 Image Credits: Cengiz Tokgoz
IMO: 9753258
Name: NEHIR
Vessel Type: Bunkering Tanker
Flag: Palau [PW]
DWT: 846 t
Length Overall x Breadth Extreme: 51 x 9 m
Year Built: 2015
Incident Date: 02.24.21
It appears that not all vessels fall victim to bad weather or unexpected human errors in a case of maritime accidents. Bunkering tanker Nehir was drowned by her own crew to cover an attempt of smuggling 3 000 kilograms (6,600 lb) of cocaine in the Bay of Biscay.
According to the Guardia Civil they had been investigating this drug smuggling scheme for many months. The organization was based in Pontevedra while cocaine was brought to a prearranged spot near the Galician coast on tankers and unloaded to smaller ships.
Suspicion fell on M/T Nehir and she was intercepted by Spanish Navy vessel Serviola with the National Police force on board. However, Nehir's crew (Turkish and Georgian nationals) have succeeded in opening valves in the engine room.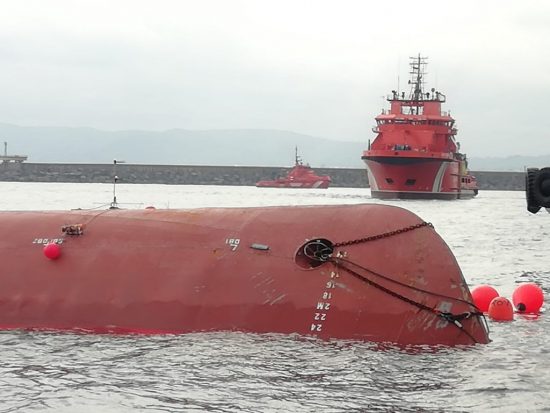 As a result, search of the vessel turned into a salvage operation from the uptake. Tanker sank in two hours, but the police managed to arrest nine crew members and collect 3 tons of cocaine worth about USD 180 million in the European black market.
MV Ever Given Created 2021 Suez Canal Obstruction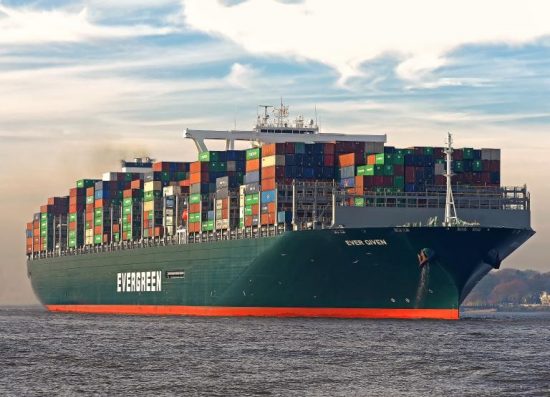 IMO: 9811000
Name: EVER GIVEN
Vessel Type: Container Ship
Status: Active
Flag: Panama [PA]
DWT: 199 692 t
Length Overall x Breadth Extreme: 399.94 x 59 m
Year Built: 2018
Home Port: PANAMA
Incident Date: 03.23.2021
It seems the entire world knows this story. On the 23rd of March 2021 the giant container ship MV Ever Given owned by Japanese company Shoei Kisen Kaisha Ltd entered the Suez Canal for the 23rd time since her delivery, but this day something went dreadfully wrong.
There are still disputes over the reasons (the wind speed was recorded at 40 knots and visibility was poor), but a 400-meter vessel stuck lopsided in mud and sand across the southern entry of the waterway.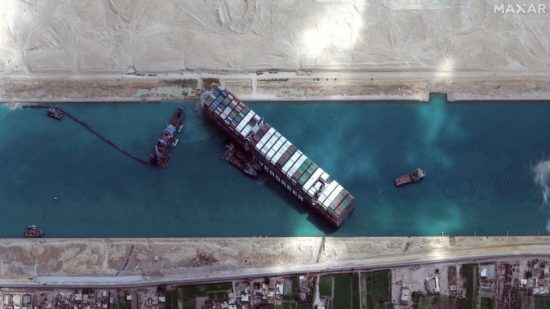 The following six days of salvage operation cost the global economy $9.6bn a day (according to Lloyd's List) and created an unprecedented traffic jam as 450 vessels were waiting to pass the canal.
The Suez Canal Authorities (SCA) used 14 tugs, diggers, a dredger and a crane to refloat Ever Given.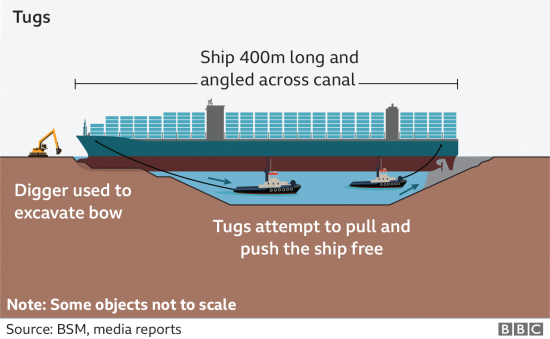 The digger was excavating the vessel's bow sitting deeply in sand. Tugs tried to pull and push the container ship that carried 18 300 TEUs. At the same time, the dredger was removing sand and silt underneath the bow by sucking them from the bottom. Finally, the crane was used to unload some of the cargo in order to minimise the draft.
On Monday, the 29th of March MV Ever Given was finally freed, but remained in the Great Bitter Lake near the Canal till the 7th of July while the SCA resolved disputes with the shipowner.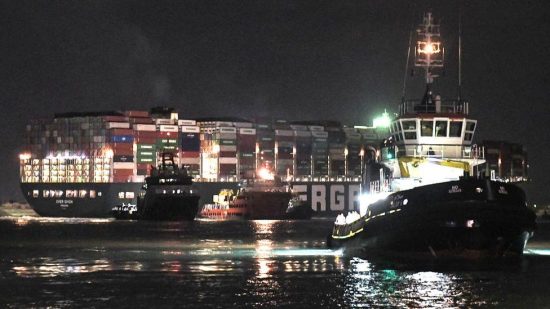 The Suez Canal Authority had initially asked for $916m compensation, but UK Club (insurers of Shoei Kisen Kaisha Ltd) described the sum as "extraordinarily large" and rejected the claim, so the SCA came back with a $550m compensation demand. 
Details of the final deal between the Egyptian authorities and ship owners are not disclosed, but the owners assured that  "Our company … will continue to be a regular and loyal customer of the Suez canal".
It seems to be the truth as MV Ever Given passed the Suez Canal on August the 20th again; this time without any difficulty. 
Cyclone Tauktae Sinks Accommodation Barge with 263 People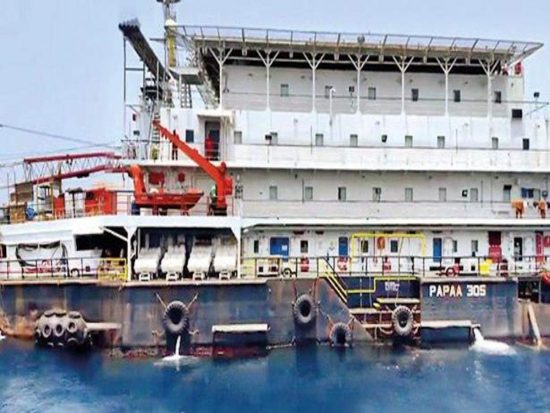 IMO: 8784327
Name: PAPAA 305
Vessel Type: Cargo Barge
Flag: St Kitts Nevis [KN]
Summer DWT: 8904 t
Length Overall x Breadth Extreme: 100.58 x 31 m
Year Built: N/A
Incident Date: 05.17.2021
The Joint Typhoon Warning Center (JTWC) issued a Tropical Cyclone Formation Alert on May 13, 2021. The Tauktae cyclone was emerging in the Arabian Sea; and forecasts expected it to proceed along the Western India.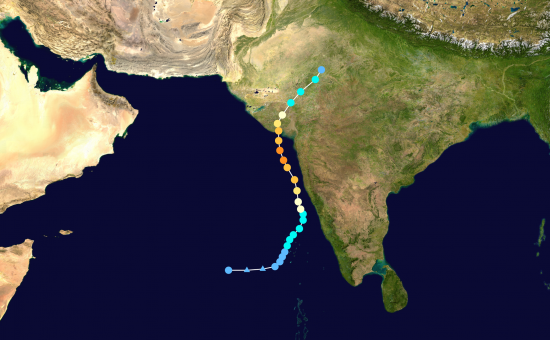 On May 17th, Tauktae reached its peak intensity with maximum 1-minute sustained winds of 220 km/h (135 mph), and was classified as a Category 4 tropical cyclone. This was the moment when Tauktae struck Heera oilfield and sent adrift three accomodation and offshore construction barges. 
Two were subsequently towed away from the dangerous zone, but Papaa 305 barge was destroyed by the storm. According to emails and Whatsapp messages sent by Master and Chief Engineer (deceased) to the owner and managing companies, P-305's moorings snapped, the barge was drifting, so they asked for immediate help.
No actions were taken by representatives of Paapa Shipping and Afcons companies, so the barge sank leaving 22 people dead and 65 still missing (186 crew members were rescued) by Indian Navy vessels.
As of October 2021, Paapa Shipping's CEO, technical superintendent and one of the managers remain in custody awaiting trial.
Fire Destroys New Container Ship X-Press Pearl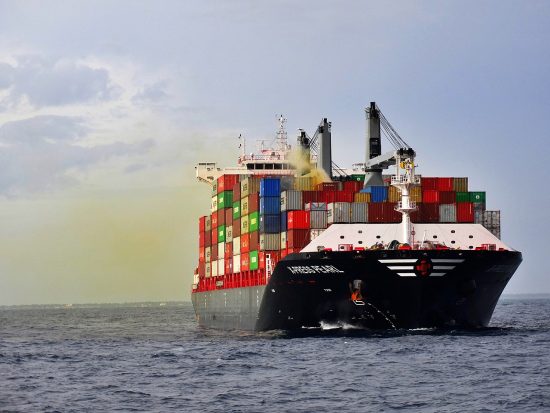 IMO: 9875343
Name: X PRESS PEARL
Vessel Type: Container Ship
Flag: Singapore [SG]
DWT: 37000 t
Length Overall x Breadth Extreme: 186 x 34 m
Year Built: 2021
Incident date: 06.01.2021 (lost)
The massive fire resulting in a complete destruction of a brand new container ship and detrimental environmental effect to Sri Lanka have become the next big maritime news that penetrated into news treadmills all over the world.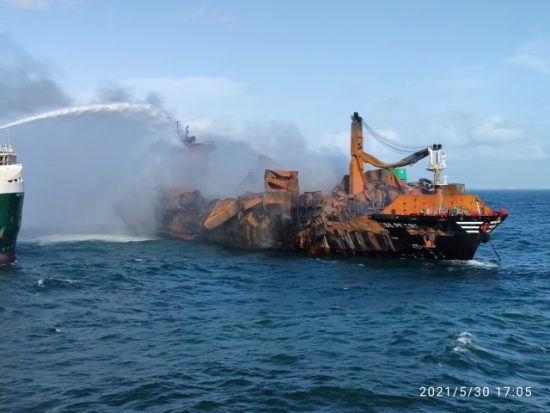 The fire on MV X-Press Pearl started on the 1st of June 2021 when she was about to enter Colombo, Sri Lanka. The fire and subsequent explosions were caused by a chemical reaction of Nitric acid in containers loaded in India, but the saddest thing is that the disaster could have been avoided.
Vessel officers detained in Sri Lanka have told an outrageous story of human indifference, unprofessionalism and buck-passing:
The crew first discovered a leakage of nitric acid in one of the containers back on the 10th of May 2021, but Hamad port (Qatar) didn't permit discharging the dangerous cargo on the pretext of Ramadan.

Hazira port (next on the schedule) didn't accept the leaking container either, because the cargo was highly corrosive and could have damaged the pier.

X-press Pearl proceeded to Colombo (Sri Lanka) next where the fire started and it took nearly 25 hours for Colombo port authorities to send some help to the crew who have conducted fire fighting by the means available on board. 

Worse still, 3 tugs that arrived to help had only low-pressure hoses and simply cooled the container ship's hull with water. It appears that there are no facilities to fight chemical-driven fires in Colombo.

Posh salvage tugs that arrived later were unable to do much as by that time explosions had started on the vessel.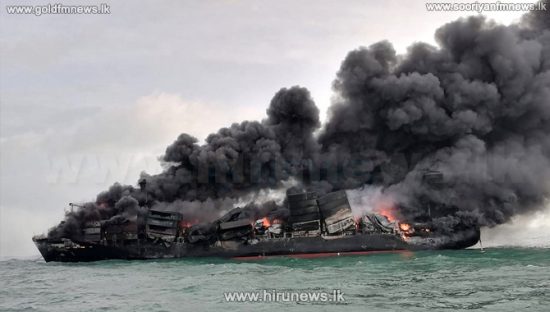 Crew members were evacuated and tugs attempted to tow the vessel away from the city.
X-Press Pearl sank on the 1st of June causing the grivest maritime pollution in the history of Sri Lanka.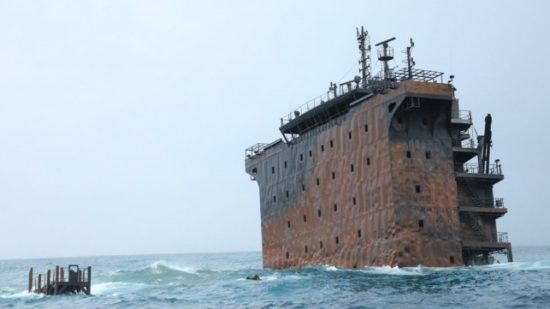 The head of Marine Environment Protection Authority (MEPA), Dharshani Lahandapura, announced that removal of wrecks stuck in shallow waters will start in early November.
She said: "The Coastal area from Mannar to Dondra is cleaned daily. We have spent around 30,000 man-hours in the cleaning operation. Around 400 workers have been deployed for this work that has been going on daily for some time now. This process has to be continued for at least one more year."
Thus, the story of Xpress Pearl is not yet over as it will take months to clean once pristine Lanka waters and beaches. In addition, four crew members of the ill-fated container ship remain in Colombo apparently to ensure that X-Press Feeders pay the $600m conpesation claimed by the authorities.