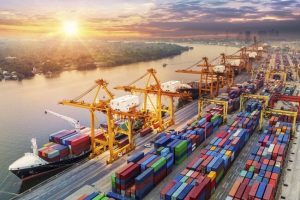 A lot of exciting news comes from the world of container shipping these days. Digitalization of container industry brings major stakeholders together and already takes its toll on regular seafarers.  Autonomous shipping is going to transform jobs at sea forever; while new frontiers are reached in the Panama Canal navigation. So, regardless of a spiraling trade war, sliding tariffs and occasional blank sailings, container shipping industry produces vibrant maritime news.
Digital Standards in Container Shipping
April the 10th, 2019 might come down into the maritime history as it was the first time in 20 years when 4 container giants have congregated with a noble purpose to move into the future. The Digital Container Shipping Association (DCSA) was created this day in Amsterdam by A.P. Moller-Maersk, Hapag-Lloyd, Mediterranean Shipping Company (MSC) and Ocean Network Express (ONE) with the aim to establish the new common IT standards for the entire shipping industry.
The DCSA was inspired by an idea that shipping is far behind in the sphere of digitalization compared to other industries e.g. tourism, banking or entertainment. In the meantime, liner container shipping is in desperate need of common technological environment for an efficient work. The DCSA is called to remedy the situation.
The Association plans to issue 5 – 7 standards per year, but the changes have already begun.  The industry leaders such as CMA CGM and Mediterranean Shipping Company (MSC) have announced their decision to join the TradeLens. This is a blockchain-driven digital shipping platform developed by Maersk and IBM. Now with CMA CGM, MSC, Maerks and other container shipowners logged to the platform the TradeLens will operate the data about nearly half world's ocean container cargo.
Such focus of major carriers on IT technologies will entail a rapid total digitalization of container shipping. In addition, it will take over ports, freight forwarders, suppliers, crewing providers and, naturally, seafarers.
First Voyage with Digital Seafarers Certificates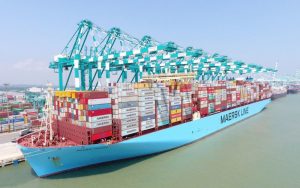 Thus, maritime digital revolution has already reached regular seafarers. The container ship Mumbai Maersk (190,326 DWT) has sailed from the port of Aarhus, Denmark on the 30th of May 2019 with digital seafarers' certificates and ship's documentation to be used for the entire journey from Europe to Asia.
The project is developed by the Danish Maritime Authority and is called the Digital Certificate for Seafarers Project. At present it is tested on board of Mumbai Maersk. She will call ports in Germany, Morocco, Singapore, China and South Korea utilizing digital certificates for all port operations and PSC.
The developers believe that IT documentation will facilitate Port State Controls since access to vessel and crew data and its verification will become instant and automatic while remaining secure.  It is possible to follow the progress of the project as the voyage continues.
During the summer and fall 2019 there will be other voyages within this pilot project to collect more feedback about using digital documents. Developers expect that after 2020 digital seafarers certificates will be implemented all over the maritime industry.
Autonomous Container Vessels in European Waters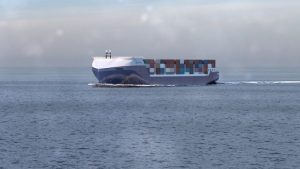 European Commission has recently unveiled its plans to back up European Autonomous Shipping initiative with EUR 20.1 million. The project named Autoship includes building and operation of two remote and autonomous (R&A) vessels along with their shore control and operational infrastructure. The project's total value reaches EUR 27.6 million.
It is expected that Autoship will speed up development of the next generation of ocean-going autonomous vessels* by demonstrating abilities of unmanned ships in real environment. Other goals of Autoship projects are to prove that R&A vessels are at least as safe as conventional ships and integrate unmanned vessels into local and international maritime legislation.
The vessels will be built around Kongsberg and Rolls-Royce technological clusters. Both ships have received an impressive technological package which endows newbuildings with the following capabilities:
Full-autonomous navigation with the aid of different types of radars, high definition visual cameras, thermal imaging and LIDAR;
Self-diagnosis with a range of internal sensors;
Own operation scheduling;
Profound cyber-security;
Integration into an upgraded European electric power network;
Effective communication with Operational centers onshore. By the way, Rolls-Royce developers plan to have ocean-going R&A vessels in operation by 2035. Conventional crews will be replaced by personnel of these Control Centers. They have made an engaging video about their Future Control Room.
The autonomous freight vessels within Autoship project will start operation in 2020 and become unmanned in three and a half years.  One of them, Yara Birkerland has already been featured in our articles.  Her creators have moved the launch deadline from the earlier promised 2018. Similar to Rolls-Royce vessel she will be manned with the crew of 7 -14 people for the first stage of the project.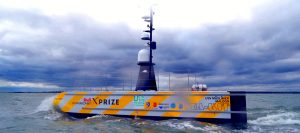 *By the way, the first ocean-going autonomous vessel is USV Maxlimer; and she was preparing for her first trans-Atlantic voyage on the 21st of May 2019. The vessel is 12-meters long. She is sailing from Canada to England conducting deep sea surveys underway. The voyage will take 35 days.  USV Maxlimer was built by Sea-Kit International and is navigated by the remote controller very similar to equipment found on a regular vessel.
New Container Ship Record in the Panama Canal
Evergreen's Triton has become the largest vessel in dimension and container cargo capacity to pass through the Expanded Panama Canal on the 15th of May 2019. M/V Triton is a Neopanamax container vessel reaching 369 meters (1,211 feet) in length, 51.2 meters (168 feet) in width. The ship has a total TEU Allowance of 15, 313 and she passed northbound from the Pacific to the Atlantic Ocean.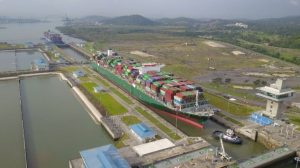 This transit adds to the earlier set record. On the 12th of May 2019 the first Neopanamax sized Q-flex LNG carrier passed through the Canal. It was a 50-meter wide Al Safliya which carried 210,000 cubic meters of LNG on board.
These spectacular transits have become possible after the last renovations of the Panama Canal commenced in June 2018. The Canal has broadened the allowable beam from 49 meters (161 feet) to 51.25 meters (168 feet).
6000 Neopanamax vessels have passed the Panama Canal since its expansion in 2016; almost 50% of them have been container ships.