Despite many obvious advantages, a job at sea has always been a risky career path. These days, though, it has become a lot safer to work at sea than mere century ago due to so many conventions and acts aimed to protect life and health of seafarers. However, hazardous conditions and unpredictable weather still claim lives and maritime accidents occur all around the world.
According to Fleetmon website which tracks all major nautical accidents happening worldwide, April 2019 broke the record as the safest month for the past three years. There have been 74 accidents, 1 ship loss and 8 casualties. To compare, March 2019 has brought 104 accidents, 4 ships loss and 22 casualties.
2019 Cases
LPG Candy and LPG Maestro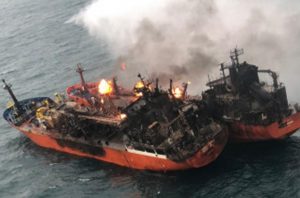 In one of our recent articles devoted to Tankers and Classification of Tankers we have reported that the history of LNG/LPG carriers' accidents is almost clear. There has been only one serious case with them back in 1974. Well, another incident occurred just recently, on January the 21st 2019 in the Black Sea.
The fire burst on LPG Candy and LPG Maestro when they were engaged in STS fuel transfer in neutral waters off the Crimean coast. There were 32 crewmembers onboard, citizens of Turkey and India; only 12 seafarers were rescued, 10 crewmembers are still missing and 10 people were killed in the accident.
The burning vessels spotting four foci on one and two on the other were left to burn out gas from their tanks, so the fire at sea continued for nearly 2 months. Russian tug boat came from time to time to cool down hulls with some water.
M/V Grande America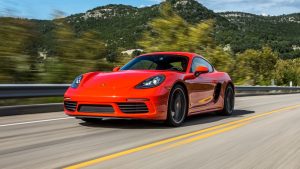 Just a week after a fire demolished LPG carriers in the Black Sea another major fire accident happened in the Bay of Biscay, in French waters. Italian car carrier M/V Grande America was travelling from Hamburg to Casablanca with a cargo of 2000 Porsche cars when it caught fire and sank. Fortunately, all 27 crewmembers were rescued by HMS Argyll, but the vessel spilled 2000 tons of heavy fuel oil (HFO) from its engines creating the 50 km2 oil slick (see the picture).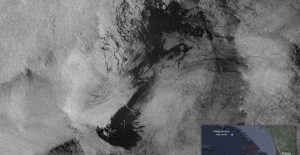 While French and Spanish united governmental teams are battling the ecological damage from the oil spill, the vessel operator Grimaldi Lines prepares for the legal fight. The last inspection had revealed certain deficiencies in a firefighting system, but the vessel went to sea.
Usually shipowners manage to avoid vast compensations for environmental pollution. In 2007, when oil slick from M/V Don Pedro contaminated the Ibiza coast, shipowner was acquitted and paid 500, 000 Euro only. Now Greenpeace and other organizations are trying to create a precedent for a company covering the cost of purification operations.
 M/T Aulac Fortune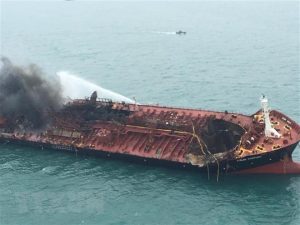 Earlier this year the fire destroyed another big vessel. There was a massive explosion followed by fire on M/T Aulac Fortune during refueling near Hong Kong in January 2019. The authorities claim that there was no environmental damage that time as the vessel had already discharged her cargo by that time and was about to leave to Thailand.
The investigation has determined that the explosions were triggered from within a cargo hold of the tanker after an accumulation of flammable gas. Explosions damaged cargo compartments severely and ripped open part of the main deck. Most of the crew (23 people) managed to jump overboard and were rescued by Hong Kong Coast Guard. 1 seafarer died and 2 people are still missing.
2018 Maritime Accidents
The 2018 brought the news about the very old but notable shipwreck. Indeed, archeologists discovered the world's oldest intact shipwreck at the bottom of the Black Sea. The 23-metre long (75ft) boat is believed to have been Greek trade ship. It sank 2 km off the Bulgarian coast 2,400 years ago.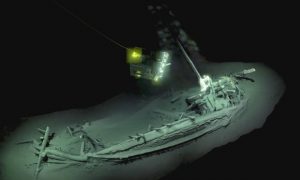 There is no oxygen at the depth of 1 km in this area, so the shipwreck is in perfect condition and looks exactly as we are used to seeing on Greek pottery works or imagining described in Homer's 'Odyssey'.
M/V Maersk Mohan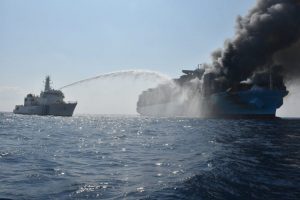 Apart from scientific breakthrough, the year 2018 will be remembered for M/V Maersk Mohan accident. The ultra-large container ship has been ravaged by a fire for a month.
The 353-meter (1158 ft) ULCV Maersk Mohan was almost new (built in 2017). She was carrying 7,860 containers to Mediterranean destination when the fire erupted in one of the cargo holds followed by powerful explosions. The flame rose for 25 m (82 ft) above the main deck to the bridge. The crew tried to put the fire down unaided for some time; then sent a distress signal. One crew member was killed as a result of an accident, but the rest 23 were evacuated successfully.
The cargo in the vessel's forward holds was declared a total loss while the containers located behind the ships' superstructures remained intact. Maersk Line is rebuilding the vessel at Hyundai Heavy Industries shipyard in South Korea at present where she was originally built and ULCV Maersk Mohan will be back in operation in midsummer 2019.
M/V Sincerity Ace
One more massive nautical disaster happened on New Year's Eve. The 200-meters long (656 ft) Japanese car carrier M/V Sincerity Ace was travelling from Yokohama to Honolulu with a cargo of 3500 Nissan cars when her Captain reported a heavy fire onboard and an intent to abandon the vessel.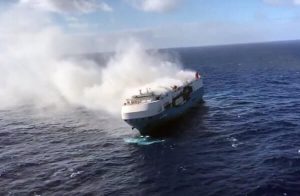 At that time they were in 1,800 nautical miles (3300 km) off Oahu coast in the North Pacific Ocean; wind was blowing at the speed of 25 knots with gusts to 30 knots (12 m/s gusts to 15 m/s);  steady 8-meters swells (25 ft) were rolling at sea. Luckily, four merchant vessels were close enough and answered a distress call. Together with the Coast Guard helicopters and patrol vessel, which came later, they have rescued 16 of 21 crewmembers stranded in rough seas.
The SAR operation was continuing for three days; involved 5 vessels and 2 helicopters and covered 5,544 nautical square miles. Other four crewmembers of Sincerity Ace were identified in water, but they were unresponsive; and there was nothing crews could do during the storm. (See the AIS animation).
The initial cause of the fire is not disclosed by vessel's owners, the Japanese company Shoei Kisen Kaisha. Sincerity Ace was towed back to Japan for the damage assessment in February 2019 and then to South Korea for the rebuilding. All cars onboard were claimed a total loss (insurance claim topped $100m), but Nissan representatives said that there had not been any impact on US customer orders and they were relocating their logistics.
M/T Sanchi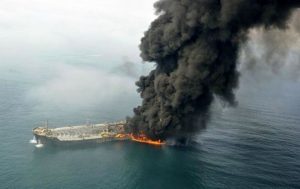 The year 2018 is also memorable for the worst tanker spill in 30 years. On January the 6th Iranian tanker Sanchi collided with a bulk ship off the China coast near Shanghai carrying 136,000 tons of ultra light oil.  Next day after the tanker was stricken by fire claiming the lives of her entire crew. The tanker sank on the 14th of January spewing oil into the depths of the sea. The oil slick later reached Japan and has become the worst environmental disaster in three decades.
Later in Dubai, a committee investigating the incident has reached some ambiguous conclusions about the cause of the tragedy. The Chinese representatives claimed that both vessels were to blame in the collision, while ship operators' spokespersons were going to the court to debate further.