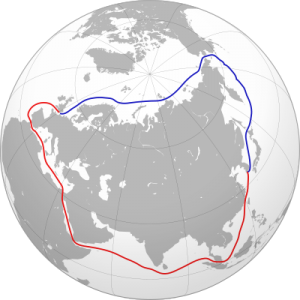 The Northeast Passage (NEP) has been cropping up in the international and maritime news for a while now. The theme is that NEP is the shortest route from Asian to European ports; and with Arctic ice thawing it becomes navigable all year round. However, the industry leaders rebuff to use it one by one. In addition, new US sanctions against COSCO are likely to jeopardize commercial shipping in the region even more. We have tried to figure out what are the lures and hazards of the NEP.
What is the Northeast Passage?
The NEP is an international shipping route which connects the northern Atlantic and the Pacific Oceans through the Barents, Kara, Laptev, East Siberian and the Chukchi Seas. It also encompasses the North Sea Route (NSR), the part of the Passage defined by Russian jurisdiction. The whole route is often called by the Russian name.
As for the distance, the Northeast Passage is considerably shorter than traditional route through the Suez Canal. For instance, there are 8,046 nautical miles from Shanghai to Rotterdam via NEP compared to 10 557 n.m. via the Suez Canal (24% shorter). Meanwhile, the route from Yokohama to Rotterdam is 37% shorter.
The Russian ingenious people, Pomors, have been using parts of the Passage from the 11th century. However, the first confirmed passage of the NEP was completed by the Finnish explorer Adolf Erik Nordenskiöld only in 1878 -79.
Pros and Cons of the Northeast Passage Navigation
According to scientific forecasts, average temperatures on the planet will raise about 3 – 5 degrees Celsius by 2050 causing great depletion in the Arctic ice. However, ice coverage has already diminished there. It was reported that NASA Aqua Satellite captured last ice blockage in the Laptev Sea in late August 2008.
In 2009, the German Beluga-group risked to cross the NEP without the assistance of icebreakers and cut 4000 nautical miles on its journey from Rotterdam to Ulsan, Korea. So, what are the advantages and disadvantages of using a shortcut?
Pros of the Northeast Passage:
Shorter distance from Asian to Western ports i.e. economizing on fuel and other expenses. Thus, president of Beluga Shipping claimed that the voyage saved each vessel EU 300 000.
Russia doesn't charge for the passage along the North Sea Route which takes a considerable distance of the journey (3024 nautical miles). To compare, the Suez Canal authorities charge about US $300-400 K for a passage of moderate size container ship or bulk carrier.
There is no piracy at the region. The coast is sparsely populated, so there is much better chance to glimpse wildlife than humans. This must be good news when compared to volatile African East Coast.
There are no cues to pass the Passage. It is now possible to conquer the route without escort in the summer months; while in winter Russian atomic ice-breakers are available to accompany commercial vessels through 2.25 meter (7.4 f) thick Arctic ice and leave 33.5 meter (110 f) passage behind ("Arctica" class ice-breakers).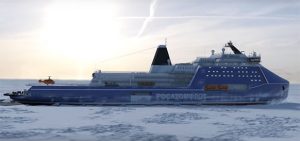 Furthermore, Russia builds new generation of ice-breakers at present. "Leader" class will be capable of breaking through 4 meters thick ice (13.1 f) and leave a 60 meter (197 f) corridor behind.
Beautiful wildlife. It might not be a traditional argument in the shipping route dilemma, but Arctic nature will certainly be a reward for everyone who ventures to these high latitudes. Polar bears, walruses and seals, white whales, a variety of arctic birds do provide a unique experience.
For instance, Silversea Cruises have been the first to organize a luxury cruise that transited the Northeast Passage. The first voyage took place between August the 10th and September the 5th 2019. The guests aboard the Silver Explorer have covered 5 000 nautical miles between Nome (Alaska, the USA) and Tromsø (Norway) visiting 27 destinations in the USA, Russia and Norway. The main feature of the cruise was pristine and breathtaking northern wildlife.
   Cons of the Northeast Passage: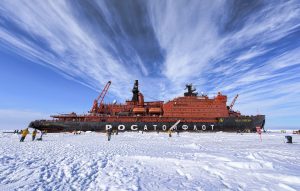 Unpredictable ice conditions. Term "ice free" doesn't mean that there is no ice along the NEP. The bright forecasts only assure that there are no blocks of ice throughout the route. However, it still freezes in winter months, so services of icebreakers are required; and strengthened hulls needed in summer. Thereby, the Passage is permanently used only by Russian companies; and in recent years by foreign businesses involved in Novatek LNG project on Yamal (COSCO, Teekey LNG carriers).
Undeveloped infrastructure. This huge unamiable territory is almost uninhabited, so there are very few decent ports; and fewer still match international standards and can boast some infrastructure.
However, existing players are working on it. For instance, China has just finished another test of its North Sea Navigation Support Center. They have studied coverage from the BeiDou Navigation Satellite System, its positioning capabilities and integration into GMDSS.
Sparse Search and Rescue resources. One more argument against the NEP is that it would be difficult to conduct SAR operations in the Arctic conditions. In the event of an accident, especially during winter, it is extremely difficult to reach the distressed zone while the time for rescue is very limited due to subzero temperatures.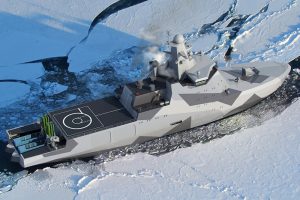 Meanwhile, Russia says that they are dealing with this problem. They develop ice-breaking SAR tugs "Ivan Papanin".  It will be able to accommodate 47 passengers, break 1.5 m thick ice (4.9 f) and spend up to 2 months at sea patrolling and rescuing. If truth be told, it will also be furnished with the "Caliber" missiles, A-190 artillery system, Ka-27 helicopter and 2 "Raptor" type speed boats; but, two birds with one stone.
Environmental concern. Some would say that this point should go first. The disappearance of ice leads to weather machine in Europe malfunction causing weather extremities we contemplate only too often now.
In addition, ice is a natural habitat for many species, they become extinct as it melts away leading to food chains breaking and further disruption of ecosystems. The Arctic environment is extremely fragile while changes to it are going to affect the whole humanity. Dense navigation will only aggravate existing problems. Driven by these noble considerations Hapag-Lloyd and CMA CGM said that their vessels will not use the Northeast Passage despite the commercial advantages.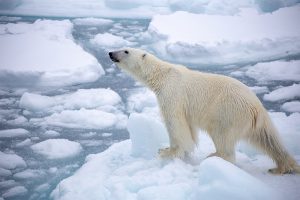 "The particles produced by the combustion of carbon-based fossils and fuels contribute to global warming, which can in turn harm our ecosystems. As long as there are no guarantees that these passages can be navigated without negatively impacting the environment, using them is out of the question for Hapag-Lloyd" said Jörg Erdmann, senior director sustainability for Hapag-Lloyd.
No liner container-shipping. Apart from the environmental reasons, container shipping owners may be inhibited from using the Arctic passage because of their long-established liner trading. The routes for vessels were developed decades ago at times; ports have necessary infrastructure and efficiency achieved. Why disrupt the schemes for the dubious new route with limited weather window?
All in all, it seems that the time the Northeast Passage as a competitive shipping route is yet to come. It might take couple more decades, but it is bound to become crowded. It was recently revealed that Arctic shelf contains 30% of the worlds undiscovered gas reserves, 16% of oil reserves as well as rare-earth minerals, diamonds and gold.
Consequently, the Arctic Council, a third-rate association of littoral countries formed in 90s to work out environmental and social problems of the region, was recently joined by China, Brazil, India and other countries which have little relation to the Arctic, but would like to participate in the exploration of its treasures. In this light, the NEP receives a great potential as development and transportation of minerals will be conducted through its ports, e.g. China already invests heavily calling the route the Ice Silk Road.