UNCTAD recently unveiled their Review of Maritime Transport 2018 report which as always provides comprehensive inner monitoring of the shipping industry for the past year together with a well-grounded prognosis for the years to come.
According to the experts, seaborne trade has been demonstrating quite good results expanding at 4% per year rate and will continue to grow with an average annual rate of about 3,8%. UNCTAD analytics also feature tendencies that produce certain influence on these figures. Among negative trends that might impede just gathered momentum of the shipping industry are:  in-ward looking policies of some countries; overcapacity; liner shipping merges that stand dangerously on the brim of monopoly and even redefine relationships with ports; environmental issues, etc.
Meanwhile, on the bright side there are many technological advances in store for maritime industry both in shipbuilding and operation. The new ways of doing business can spur the seaborne trade forward immensely. Ship owners will benefit from ballast free ships, 3D printing, buckypaper and alternative propulsion technologies; whilst shipping operators even now are getting used to blockchains, digitalization and AI in their everyday routine.
Ballast Free Ship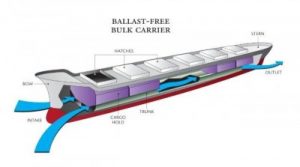 Discussion concerning ballast waters spreading Invasive Alien Species (IAS) capable of destroying entire ecosystems has been going around for a long time; but following an adoption of the IMO's Ballast Water Management Convention in 2017 it has come into a new level. Today shipowners are pressed to look for new technologies providing ultimate efficiency. One such technology is under development at present. The concept presupposes elimination of ballast water problem by building a Ballast Free Ship with fore-and-aft pipes fitted into the hull. Seawater will flow through them in a steady stream preventing the transfer of polluted water or mixture of waters from different ecosystems.
Buckypaper – thinner than carbon, stronger than steel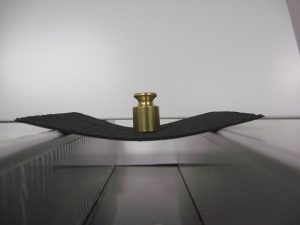 The material which looks very much like ordinary typewriter carbon paper, but in fact is about to revolutionize the way people manufacture everything from computers and batteries to vessels and armor.  Buckypaper is made of compressed carbon nanotubes, which are long, cylindrical carbon structures consisting of hexagonal graphite molecules attached at the edges. The material is 500 times stronger than steel at one-tenth of weight; buckypaper also demonstrates remarkable thermal conductivity and low optical reflectivity. Carbon nanotubes (CNT) have been known for almost 20 years; but only recently had scientists of Florida State University developed the way to use them in commercial production. Needless to say in how many ways buckypaper can be used in the shipbuilding industry.
3D Printing – make yourself a spare
3D Printing technology is not obviously new. But today it spreads its tentacles to the new industries experimenting with the materials (for instance wire instead of filament to make steel details) and sizes of printers to manufacture larger items. In the shipping industry Maersk were the pioneers of onboard 3D printing. In 2014 they started an experiment of producing spares shipboard.
Some enthusiasts believe that every engine room will be equipped with 3D printer by 2030 to make even the most difficult spare parts; and to be honest 3D printing would be convenient for Oil&Gas industry where one-off details or small run spares are sometimes needed. However, ship spares suppliers are not particularly happy about this initiative.
Alternative Propulsion: hybrids, LNG and electric engines to compete for the place in future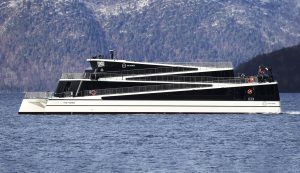 Rising fuel prices, 2020 sulphur cap, general environmental agenda, – naturally shipowners are on the constant look out for the decent alternative for the traditional heavy fuel engines. Recent shipyard booking orders show that more and more owners incline towards LNG fueled vessels in order to meet 2020 Sulphur cap requirements. Some shipowners go even further and replace good-old diesel engines with electric analogues. Consequently some of the vessels are turned into the giant floating accumulators like, for instance, the winner of the SSM Ship of the Year 2018 Award  Future of the Fjords whose 40m fiber glass hull is stuffed with batteries. No noise, no vibrations, no emissions into pristine waters on the fjords.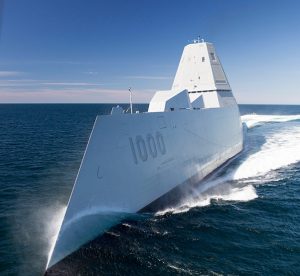 Another option is the integrated electric propulsion system which consists of gas turbines and diesel generators which produce three-phase electricity. It is used to power electric motors that rotate propellers or create water jets. The system uses electric transmission instead of mechanical one that allows reducing mechanical losses. One of the advantages of this technology is that it gives more freedom in placing the engine; in addition making vessels less noisy, heavy and capacious. The electric transmission is already installed on the navy ships of the future HMS Queen Elizabeth of the Royal Navy and USS Zumwalt.
Autonomous Vehicles – from concepts to reality
Autonomous ships still remain creatures of the future; and even Kongsberg's Yara Birkeland launched this year will become unmanned in two years time only. Meanwhile, Oil&Gas industry demonstrates stunning results. On October the 14th, Norwegian Continental Shelf has acquired its first remotely operated drilling platform Oseberg H which belongs to Statoil and is so tiny that doesn't even has a toilet on the topside.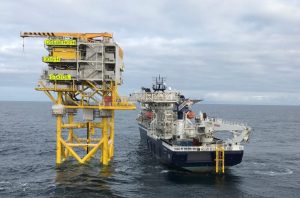 The fact that the era of unmanned vessels is eminent is corroborated by the port of Rotterdam authorities who are testing autonomous navigation in port in preparation for the new operational conditions. To do so they have equipped a former patrol vessel with cameras, radars, sensors, etc. turning it into a kind of floating lab and sent it to collect data about weather, vessels' operations, engines and everything that's going on in the port.
Digitalization: shipping industry embraces blockchains
Jens Ismar, CEO of Western Bulk, a high priest of shipping and a big enthusiast of digitalization states in his piece for 'The Maritime Executive' that maritime industry should cast aside old-fashioned prejudices and embrace progressive technologies even though they are introduced by outsiders. Fair enough, ocean freight remains seriously behind in utilization of e-commerce and Internet of Things in comparison to airline or hospitality industries, because historically people from shipping don't appreciate initiatives which come from those who don't possess relevant marine experience.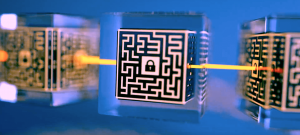 However, the tide is turning now. Maersk were again the first to answer the call of the future. In January 2018 they created the joint venture with IBM to apply blockchain in shipping and digitize seaborne trade. After that it seems the industry has tasted the new trend. More than $3.3 billion were invested in startups dealing with digitalization of shipping.
Imagine, that only at the beginning of the 2018 AB InBev, Accenture, APL, and Kuehne + Nagel just tested a blockchain solution that would have eliminated tons of printed documents with particular focus on Bill of Lading; while barely a month ago (20th of September 2018, Geneva) another company Singular Point has already launched an entirely blockchain powered system MARiS targeted at vessel owners, charterers and commodity brokers.  Developers promise that the new system would remove the existing data boundaries and speed up procedures dramatically.
Naturally some the above listed technologies still remain at the stage of concept. However, UNCTAD clearly pointed technological development as a key trend pulsating within the global marine trade. Therefore, there is good chance that many of these systems and ideas will find their practical application and move shipping industry ever forward.