There is a never ceasing interest around seafarers' salaries. A job at sea fascinates by travel and variety, but repels by hardships and isolation. So many people are wondering how well seafarers are paid for their hard labor. It is worth to join their ranks and abandon the comfort of domesticity. In this article we have made a rating of salaries based on job ads placed on the website which will provide a fairly lucid picture of earnings at sea for all ranks and many ship types.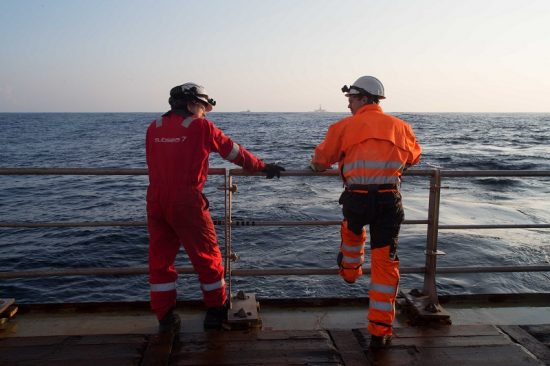 Why do Salaries Vary?
First of all, we should name the laws which define salary paid for the crew. Once you decide to become a seafarer, your salary will depend on the complex of factors i.e.:
Your rank;
Offshore or Merchant fleet; and subsequently type of vessel within the selected category;
Your experience in the rank;
Your nationality; it is a common knowledge that European or US crew is paid higher under otherwise equal conditions.
Loyalty to the company; many shipowners provide special bonuses for officers and ratings who stay with them for a certain amount of time.
Previous experience on different vessels is also valued as it ensures skills of various equipment handling;
Different CBAs attributed to the vessel. Terms and conditions of your employment including amount of the salary is defined by the Collective Bargaining Agreement accepted on the vessel. It would be wise to study the one which guards your vessel and explore the extent to which your Company adheres to it.
Communicative skills; you can talk the manager into higher salary during the interview in case you deal with shipowners directly. You can also persuade the crewing manager that you deserve the top wage if there is a range.
Top Seafarers' Salaries
As you might expect, the highest salaries in the industry are paid to the Masters, Technical Superintends and Chief Engineers. During the last quarter 2019 the highest rate offered to the Master was USD 18000 per month (Seismic vessel). Although, according to other job postings the lowest rate for the same position was about USD 9500 per month.  A lot depends on the vessel itself.
Next go Masters and Chief Engineers for LNG/LPG carriers, VLCCs, Oil and Chemical tankers as well as various offshore vessels with the salary range of USD 12 000 to USD 15 000.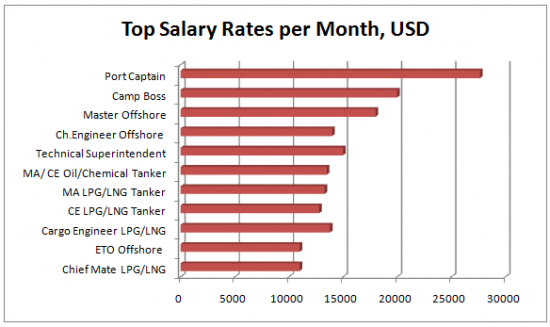 On the next step there are Staff Engineers, Mooring Masters, Chief Officers, 2nd Engineers and Port Engineers with the salary rate of USD 9000 – USD 12000 for the same types of vessels plus Cruise Liners and Super Yachts.
Meanwhile, job ads looking for 2 Officers and 3rd Engineers for tankers mostly offer no more that USD 4200 – 4300. Rates drop even lower for the 3rd Mates and 4th Engineers i.e. USD 2800 – 4500 depending on experience and type of the vessel.
The interesting fact is that merchant fleet wages have not changed dramatically for the past 6 years; while offshore salaries have plummeted together with oil prices, but still remain a desirable milestone in many maritime careers. There is a diagram below that shows fluctuations of 2nd Engineers' wages for the different types of vessels. The most efficient growth has been in the gas industry. Booming demand together with enhancement of port infrastructure ensured steady development of that maritime sector.
However, high rates paid for offshore, tanker and recently passenger vessel officers depend not only on the price of the commodities they handle, but on the overwhelming level of responsibility they accept with their position as well as the level of expertise that makes it possible.  One of our recent articles was providing a recipe how to become a successful seafarer. It gives guidance how to move to offshore or tanker fleet and achieve high earnings at sea.
2E Salary Rate, Various Vessels, 2013 -2019, USD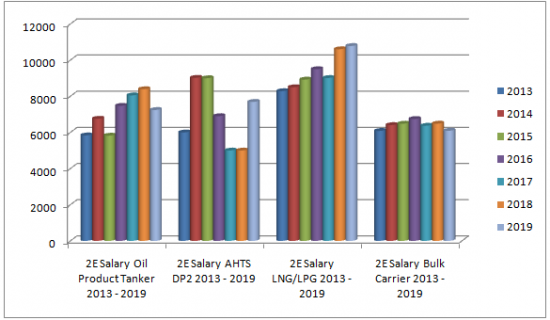 Merchant Fleet Seafarers' Salaries
Apart from general laws described in a first paragraph, salary rates on dry cargo vessels fluctuate depending on the same intricate reasons which rule the oil and gas sector. For instance, the larger and more sophisticated is the vessel the more impressive will be the salary scale for its crew.
Therefore, bulk carrier, container ship and heavy lift vessels' crew are paid better compared to seafarers working on general cargo or multipurpose vessels.  Master and Chief Engineer for Bulk Carrier will earn from USD 8500 to USD 8800, a little less (USD 7900 – 8400 for Container Ships and Heavy Lifts). To compare, the same ranks will get from USD 5300 to USD 6200 on the General Cargo or similar vessel.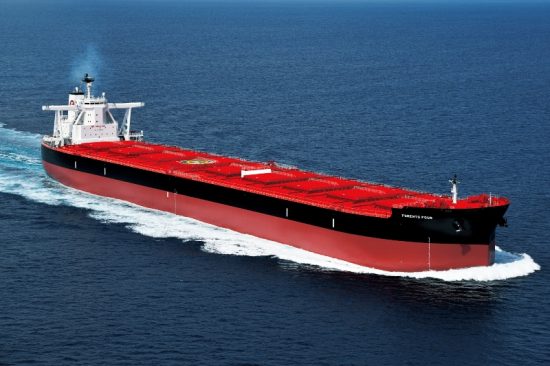 Chief Mates and 2nd Engineers can count on the salary of USD 6400 – 6800 on Container ships and Bulk Carriers while their colleagues on General cargo are offered from USD 3800 to USD 4500. 2nd Officers and 3rd Engineers earn about USD 3200 on Bulkers and a little less on Container carriers. Meanwhile, the gap is significant with General cargo and similar ships (Coasters, Dry cargo) about USD 1700 per month.
The job market is very crammed with junior officers at present due to the activity of maritime universities all over the world. This doesn't make life easy for 3rd Officers and 4th Engineers, but fortunately there are very many job offers for them as well. Salary rate varies from USD 2500 to 2900 on Container Ships and Bulk Carriers and is quite lower on General cargo vessels (USD 1300 – 1700). At present these are probably the most sought jobs, so we made a diagram which reflects wage rate on various merchant vessels.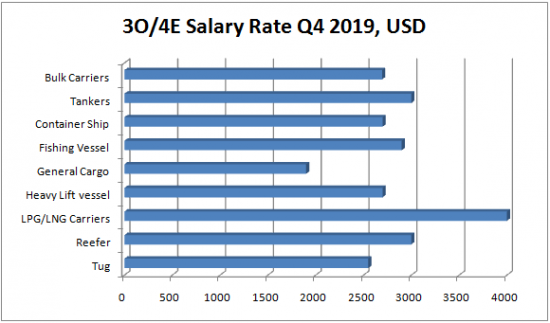 How much does El. Engineer Earn?
Naturally, there is own hierarchy in this profession as well. Chief El. Engineers are offered a square sum of USD 10 000 on LPG/LNG carriers and some offshore installations while salary rates drop to reasonable USD 6000 at merchant fleet. Electrical Engineers and Technicians also are offered around USD 5k – 6k the qualification and size of the vessel i.e. responsibilities onboard.  Job ads for Electricians usually start from USD 2000 per month for small vessels such as crew boats and tugs and go up to USD 5000 for fully-fledged ships e.g. bulkers with several generators to deal with.
Ratings' Salaries
Important fact about ratings' salaries is that they are as much dependent on the fleet type as on the additional qualifications of a particular seafarer. For instance, an AB Seaman's wage rate (and Oiler's for that matter) might be around USD 1200 on a cargo vessel, USD 1500 on an oil tanker or USD 2500 on a drilling platform. At the same time, AB-Cook earns USD 1800 on a cargo vessel, USD 2000 working on a tanker and USD 3000 in offshore. Therefore, upgrade your qualification to earn more.
Incidentally, Cooks can earn from USD 1800 on a moderate cargo vessels to USD 5000 on drilling platforms (in case of Chief Cooks).  An average salary rate for a Cook is around USD 2500 for any kind of vessel, though.
Ordinary Seamen and Wipers are offered about USD 1000 on cargo vessels and a little more (USD 1200 on gas carriers.) It is highly advised for these ranks to take up welding courses as this qualification will top the salary rate significantly. By the way, fitters and welders are promised from USD 2000 to USD 2200 depending on the complexity of the vessel.