Offshore development has been traditionally associated with the Oil&Gas industry. Being extremely profitable, drilling for fossil fuels has always engaged the best minds and technologies all over the world. Meanwhile, another lucrative industry joined a shelf development not a long time ago. Offshore diamond mining company levels the technology up, constructs the unique vessels for its purposes and produces about 1.370 million carats a year.
Diamond Fields Location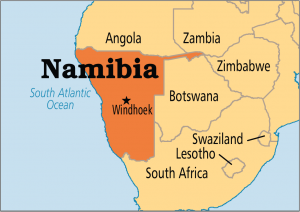 The mining is conducted off the Namibian coast by Debmarine Namibia, a joint venture between diamond giant De Beers Group and the local Government. The diamonds of the Atlantic have a peculiar origin. The Orange River has flooded vast territories where the earth's crust is pierced with kimberlite pipes approx. 28 million years ago.  Huge clots of precious rock eroded and were washed down with the stream into the ocean.
Stones were tumbling through the thousands of kilometers before they reached the sea and then spent an eternity in the chilly waters of the Atlantic. This has resulted in a process of natural selection. Thereby, 95% of diamonds recovered during the offshore mining appear of "gem quality" in comparison to 40 – 60% of stones produced from open-pit or underground mines.
A round-o-clock mining is conducted around the area of 6000 km2 (2316 ml2) which is bigger than the territory of Bali island. At present, only the quarter (27%) of this licensed zone has been proved to contain diamonds. But the company's prognosis is optimistic. They are allowed to continue offshore mining there till 2035 and believe that production will increase.
Diamond Exploration and Sampling Vessel
While at river mouth self-employed divers work at 9 meters (30 ft) depth looking for kimberlite under the rocks, farther offshore large exploration vessels are involved in more technologically advanced diamond harvesting.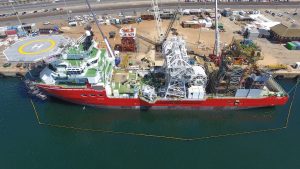 First, the research of a seabed is conducted by ROVs or two-man submarines which apply sonar technology to identify mineralized areas. Next, the company's deepwater diamond exploration and sampling vessel MV SS Nujoma (dwt 5155, length 113 m) will sample sediment and identify exploration zones.
This game-changing vessel was built by Kleven Verft (Norway) in 2016 and then sailed to Cape Town, there hi-tech sampling modules were assembled in parallel with vessel construction. The mission equipment includes:
5-storey Recovery Module containing X-Ray equipment and diamond recovery line;
650 tonnes Launch and Recovery Sampling System which is built to stand in water for 7 days producing sediment for analysis;
A massive Dense Media Separation plant designed to perform complex gravity circuits separating diamonds from rock.
Giant Slurry Hose Reel, Front End plant and other machines.
Offshore Diamond Mining Technology
Nowadays, Debmarine Namibia operates a fleet of 5 sophisticated diamond recovery vessels which resemble offshore drillships, except for complicated diamond processing units installed onboard.
The production begins by the "Butcher", a 300-tonnes machine that trawls the ocean floor unplugging precious rock. After that, sediment is sucked from the depth of 120 meters (393 ft) and is transported to processing plants through the giant pipes.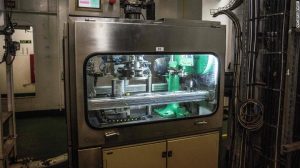 Then, rocks in sediment are crumbled and diamonds sifted out during the complex of multi gravity separation techniques. The whole cycle is conducted in the pressurized modules without any human involvement. Produced diamonds are confined into tension cans; those put into the metal cases and transported to the company's onshore base by helicopter.
The Newbuilding Offshore Diamond Recovery Vessel
Debmarine Namibia has recently ordered the largest offshore diamond mining vessel in the world. Damen Shipyards commenced a construction of the 177-meters (577 ft) offshore ship in May 2019. The vessel will be equipped with the DP2 system based on seven-thruster propulsion system and will cost about $468 million.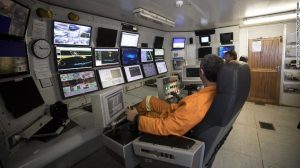 The mission equipment for the future diamond recovery giant is built in Cape Town simultaneously. So, once the construction is completed in Mangalia (Romania), she will sail to South Africa for the installation of the production plant. The first diamond recovery is planned for Q2 2022. The newbuilding is expected to bring about 500,000 carats per year.
Negative Effect of Offshore Diamond Mining
Such laborious method of diamond recovery naturally causes a great disturbance to the marine environment of Namibia. Thousands tones of sediment are turned up, then dumped overboard again; and even company's CEO Otto Shikongo admits that took more than a decade for some areas to recover after that intrusion.
There are also complaints about too close a cooperation between the Namibian authorities and De Beers Group. But as operations are vital for the state's economy; and quality of produced diamonds prove to be better compared to neighboring countries; the criticism ceased and the license of Debmarine Namibia was renewe